Elijah Rosario is a singer-songwriter from Durham, North Carolina who, in his 10-year long career has taken influences from many different artists and genres, and being the great storyteller that he is, he paints a great picture of where he's been and where he intends to go through his music. Two EP's in, you can really hear the growth in his voice, his sound, his identity, and he really knows how to put on a show.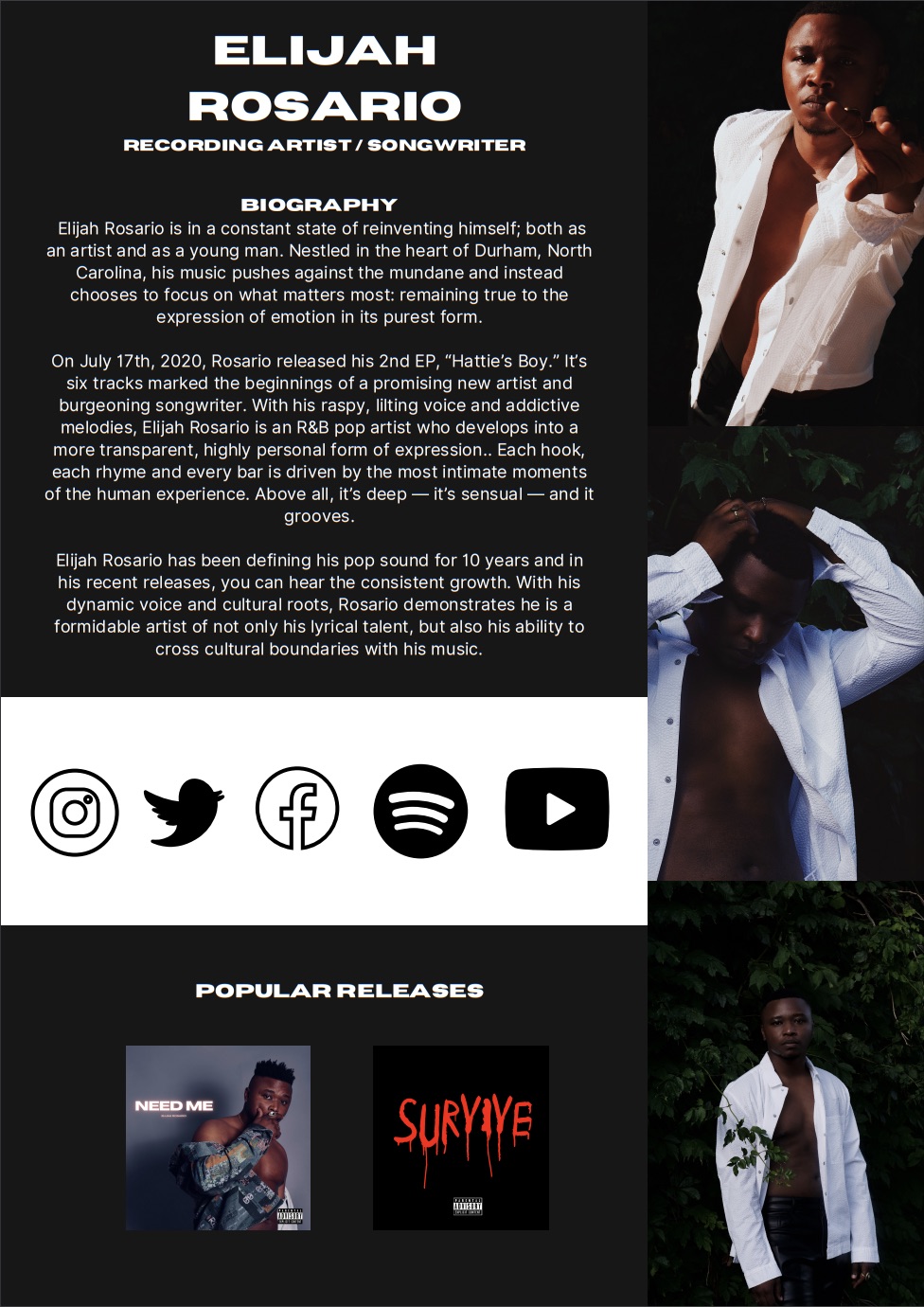 On his album "Genuine Truths," which releases on all music platforms on Sept. 29, we hear a mix of R&B, pop, Afro-pop, and hip-hop, being graced with features from hip-hop and R&B artist Voyce, Afro-pop artist Livie, and hip-hop artist Kfreshh. His interchangeability from genre to genre, mixed with a knack for writing some incredibly catchy hooks makes this an album I 100% recommend to anyone reading.
This 10-track album is a quick listen, with each song running around two and a half to three and a half minutes long, but each song is jam-packed with beautiful melodies met with great storytelling.
Rosario's voice is one of his greatest assets, luring you in with his melodies, and leaving you wanting more and more when each track finishes. His hooks remind me of Don Tolliver, PartyNextDoor, and even DVSN when we begin to hear the more sensual tracks. His music can be easily implemented into any R&B playlist you have, and I have a feeling listener's ears will perk up every time his music comes on from now on.
The songs that I loved the most on the album so far are "Need Me," "Movie Star" which features Voyce, and "Best of Me" featuring Livie.
"Need Me" was the first song on the album that really grabbed me, featuring the great writing ability that Rosario portrays so well throughout his music. And again, his hooks boost the replayability of his songs tenfold; creating earworms that will have you singing his songs for days.
"Movie Star" featuring Voyce is a quick 2:33 track that highlights some great production, another great hook, and promotes a great time of hanging out with your friends and living large and unapologetic. This album is full of good vibes and songs to play either while driving around, as party anthems, or even a great addition to some of your more R-rated playlists.
Lastly, "Best of Me" featuring Livie features the most prevalent Afro-pop influences and is arguably one of the best tracks on the album. The sensuality of the lyrics mixed with the groovy production and the beautiful vocals from Livie makes for an incredible track. The two artists flow so well together and I've mentioned this multiple times already, but Rosario's hook comes through as the outright highlight of the song, and one of the best on the entire album.
I highly recommend listening to "Genuine Truths" when it releases on Wednesday, Sept. 29, and listening to all of Elijah Rosario's music whenever you get the chance. His biggest singles to date are "Need Me" and "Survive" and I can tell that several songs on the album will find their way onto many listener's favorite playlists.
Written by: Sam Esser