Coming all the way from Dublin, Ireland, shining alternative rock band Inhaler took the stage at The Wiltern on April 5th. Capping off their North American tour run for their latest album Cuts & Bruises in Los Angeles, this was one of two sold out shows they were playing at this venue. The band is composed of four members: lead singer Elijah Hewson, bassist Robert Keating, drummer Ryan McMahon, and lead guitarist Josh Jenkison. They have been breaking records since the band's formation. The release of their debut project It Won't Always Be Like This back in 2021 sparked a fanbase heavily dedicated to the four boys, making them the first Irish group in thirteen years to top the charts with a debut. Their fans piled into the Wiltern that night, buzzing with contagious excitement as they waited to see their favorite band play.
It was following a morning shift when my cohost and friend, Sam and I embarked on our journey into Los Angeles from San Diego. It is always nice to have a show to look forward to after a busy work day. Thankfully, Inhaler was entirely prepared to let their audience blow off some steam with the energy they brought to the stage. We arrived at The Wiltern when the opening band Sun Room had just begun their set. This was my second time seeing Sun Room and I was truly excited to be in their audience once more. I feel like their presence as an opening act really complimented the night well, bringing together their California roots with Inhaler's Irish upbringing on a Los Angeles stage. Pieced together in suits and smiles, Sun Room captured the crowd's attention by playing hits such as "Cadillac" that relay their ability to amp up the energy of a room. It was really nice to see a San Diego based band take on such a big venue like The Wiltern in LA. Their charisma and charm was evident in their performance.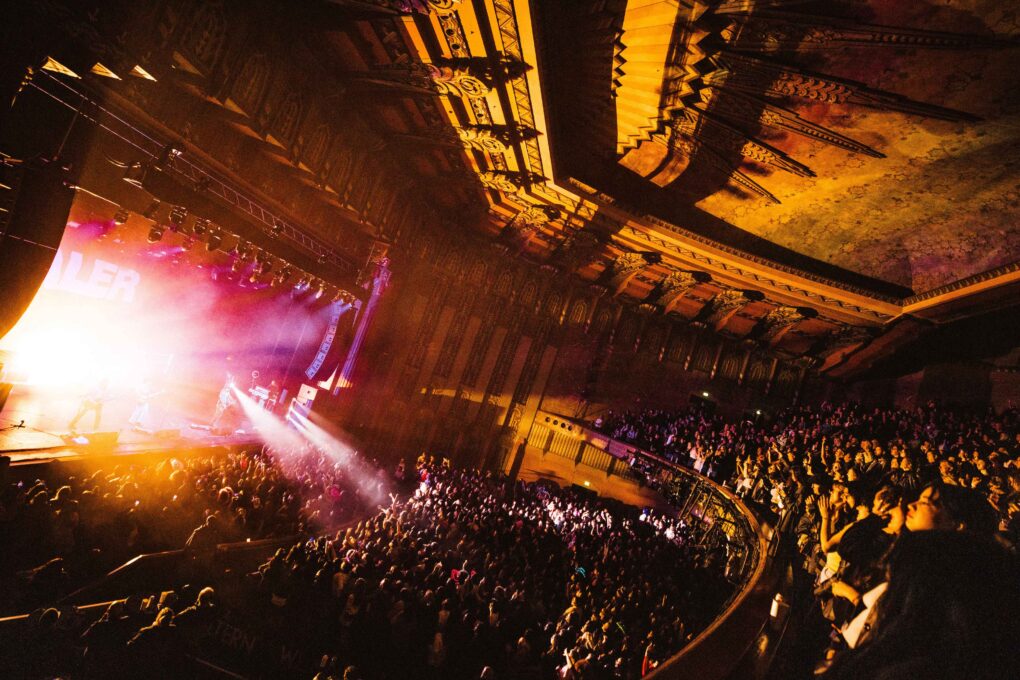 Inhaler graced the stage shortly after. They opened up their set with a song from their newest album called "These Are the Days." Having just released their sophomore project Cuts & Bruises on February 17th, this felt like the absolutely perfect opening song. Hewson captivated the room's attention, wearing a gray blazer paired with jeans. His entire presence felt nonchalant and effortless, making the look he achieved feel entirely natural. You could not help but be taken by his vocals. The banner behind the band read "Inhaler" in the classic font found on most of their merch. "These Are the Days" was a great opening choice as it is a nostalgia imbued track that set the tone for the rest of the night.
Before we go on, I'm going to be completely honest. The Wiltern did not feel like the perfect place for Inhaler to perform. While the venue has a certain elegance to it, the way the crowd was sectioned off at each level made it difficult to see the band. I had to stand on my tip-toes for most of the night to see the top of the band member's heads. While my calves got a crazy workout, my neck felt strained and uncomfortable most of the night. My friends and I kept joking that we had to look through people's phone screens as they were recording to really see the band. When it comes to a crowd that is not seated, I feel like venues that are tilted downwards towards the stage should be avoided.
Following "These Are The Days," the band immediately played "My Honest Face." When this song came on I was immediately surprised. Being their highest streamed song, I had never expected it to be the second song of the night. You could feel the sense of surprise in the audience as well as everyone turned to one another yelling, "oh my god" as Hewson counted the song in. This was definitely the song that introduced me to the band and made me fall in love. Regardless of not being able to see very well, we all danced around, shouting out the lyrics. People were strung out on energy after this song finished.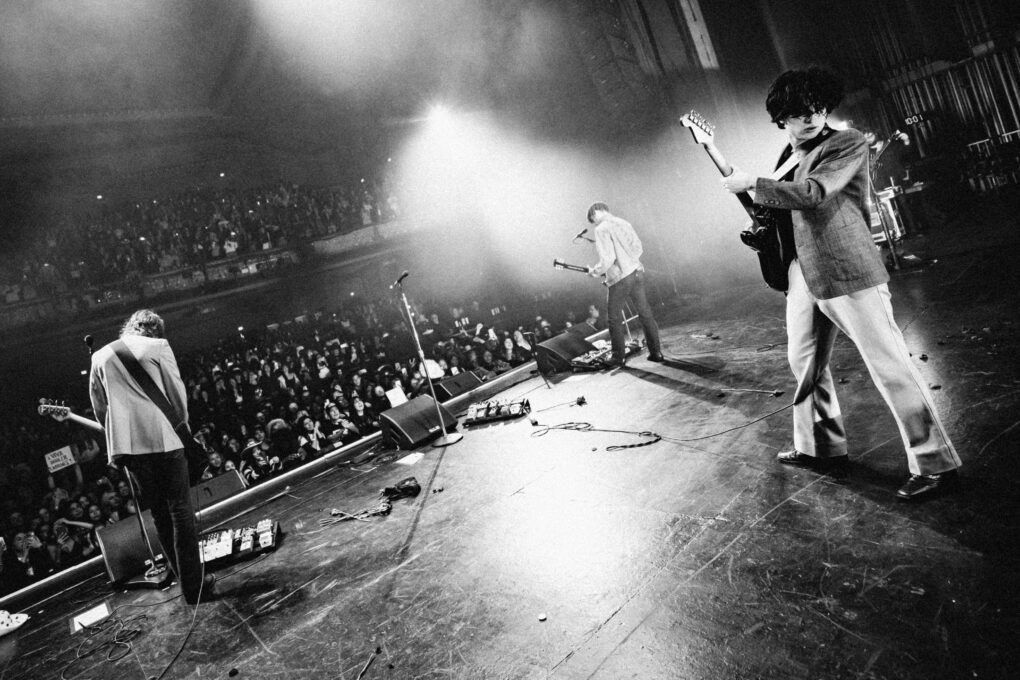 Their set delved into an array of their different tracks for the rest of the night. But, I can say with utter confidence that everything sounded good. This band had a certain "midas touch" with their vocality and instrumentals, making the crowd feel golden and refreshed with their gritty riffs and wistful lyricism. One of the highlights of the night definitely had to be their performance of "My King Will Be Kind." It's one of those songs that has been ingrained in my mind ever since hearing it. There's something cathartic about singing the words "I fucking hate that bitch" with hundreds of people. When that line of the chorus would sound out, the lights would go all white, illuminating our faces. Everyone seemed to be shaking something off their shoulders in their screams, it was definitely a key moment from their set. 
After ending on classics like "Love Will Get You There" and "Cheer Up Baby," they came back on stage for an encore of "If You're Gonna Break My Heart" and the title track from their debut album "It Won't Always Be Like This." It was a perfect balance between their debut and sophomore project, bringing the night to a blissful close. I think I began to realize Inhaler's impact once the show was over. Walking out of the venue to the parking structure, I could see fans crowded around the corner, attempting to get a glimpse of the Irish band's tour bus before they departed for the night. They have garnered attention that was specific to boy bands such as One Direction and Five Seconds of Summer. So, it was refreshing to see that the "fangirl" in our hearts is alive and well.
Featured Image by Lewis Evans