On March 14th Pearl & The Oysters kicked off their first headlining tour here in San Diego at The Voodoo Room in the House of Blues. The group consists of a French American duo of Juliette Pearl Davis and Joachim Polack. The two met in high school in Paris and immediately bonded over their love of music such as 70's yacht rock, 50's pop, 90's space age and other genres. They moved across the Atlantic in 2015 to live together and have been releasing music since 2017.
Their Debut self-titled ep, 'Pearl & the Oysters' released in 2017, since they have released three
albums altogether. Some of their most popular songs have been Vitamin D," "Mercury Comet
Caliente," and "Canned Music". A fourth album is on the horizon as their next EP, "Coast 2
Coast," will be released on April 21, 2023 on Stones Throw Records. Several singles to promote
the album have been released including the scenic but slow groove of "Pariso," the sweet
sounding "Pacific Ave" and the hypnotic gazing "Konami" track.
I arrived early at 6:00 before the doors opened at 7:00. Once I killed time and was finally in the
venue, I suddenly felt starstruck when the duo had walked in and forgot I had a job to do
covering the show. Quickly gathering myself back together, I introduced myself, and asked for a
picture to which they were so kind to do for me.
As more people came in and the venue began to fill up, the opening band, Tunewave, started
the show at 8:00. Being a local band, Tunewave is a group of University of San Diego students
and friends based in San Diego. They released their first album,"Self-Reflections," in 2021 and
their ep "Molecules in Motion" is their most recent release back in January of this year. The title
track of which is their most popular song thus far.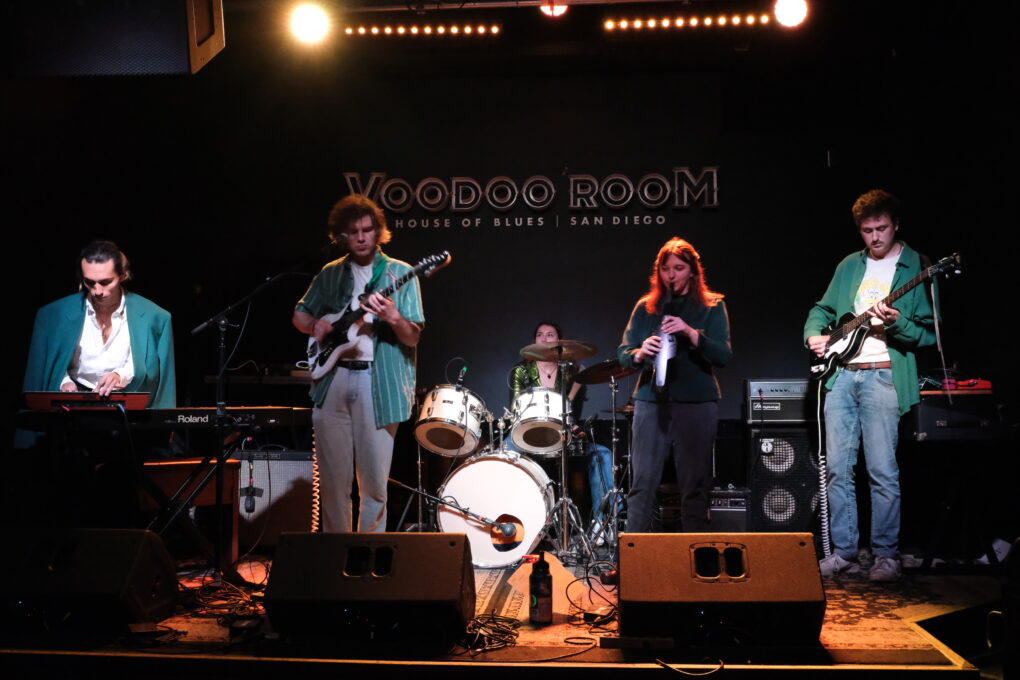 They quickly got to playing after introducing themselves, getting the crowd into the swing of
things, and got everyone's attention. With an electric saxophone, and impressive instrumental
piano breaks, they surprised me with their playing, showing they aren't just another local band
with your typical covers and alt rock sound but with some depth. Of the songs they performed,
some of note were their aforementioned, "Molecules in Motion,"echo sounding "Gut
reaction"and my favorite of what they performed, "Better Now."
I caught up with the lead singer of the band, Nick Brumbach, after the show and got the idea the
band are just a bunch of friends hoping to make it and attract new fans as they continue playing,
and opening for Pearl & the Oysters could do just that by their show. Passing band stickers after
the set by following their spotify or instagram definitely helps too. They'll be performing again
soon Saturday, April 15th, at Soda Bar.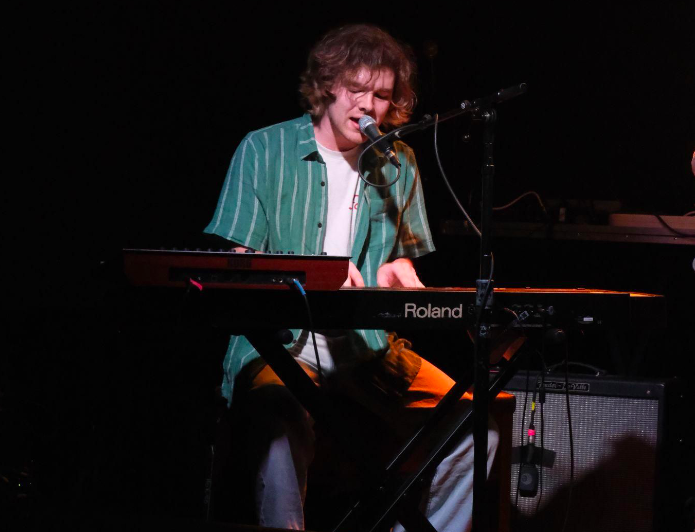 After Tunewave's set was over, the crowd drew closer and gathered around the stage, as all of
us grew in excitement for Pearl & the Oysters to finally come out. Time felt like an eternity, I was
checking my phone only to come to the realization that the service was abhorred so there was
nothing else to do but simply wait and hope 9:00 drew near.
My personal experience listening and being a fan of the band is fairly new, becoming an avid
listener last summer. I found out about them through their record label, feeltrip records. Artists I
listen to such as Paul Cherry, Jerry Paper, and Mild High Club fall under a circle of people
where they and the Oysters come to know each other and so on. I was instantly hooked on the
clear inspiration from 60's, 70's, and 80's music as well as the creative effects and vocals
highlighted in their tracks. I was quite interested in how they'd translate it onto stage.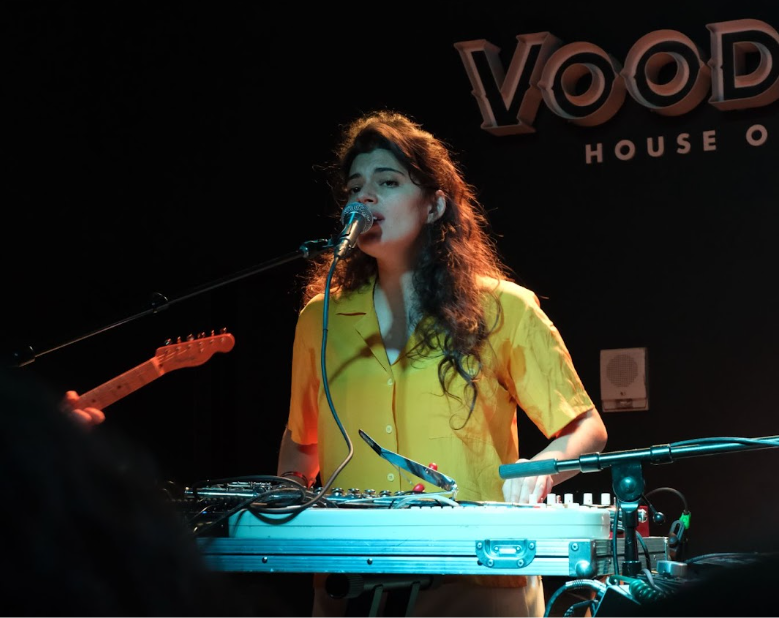 As the hour finally came, so did the band and Pearl & the Oysters, the band was welcomed by
applause and cheers from the crowd. They started off with a bang playing a fan favorite,
"Vitamin D". With head bops and woos galore, they got the crowd going with their signature
vocals and style. The sudden atmosphere of the stage and crowd changed and suddenly you
saw fans of all ages go up front and dig the sound of the dream sound band. I looked to my right
and was taken back by the fact there was a man who looked to be either in his 40's or 50's
enjoying the music as much as I was. Pearl & the Oysters is truly a universal band.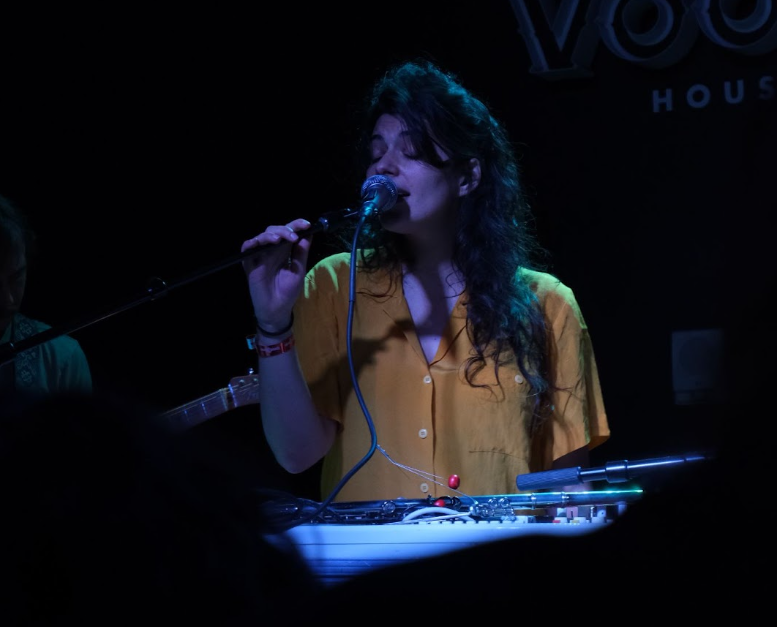 Continuing on the set, they played several of the singles off their upcoming album including:
"Pariso" and "Pacific Ave". With "Paiso" it sounded like the studio release, with a calm tone and
sound thank made you feel as though you were in paradise. They also played an unreleased
song from their upcoming album, that caught my ears, and will be one I'll be looking forward to.
As the set went on, they featured a song where the pair shared vocals. That song is "Soft
Science" another favorite of mine that is reminiscent of an early 1960's love song like "Hey
Paula."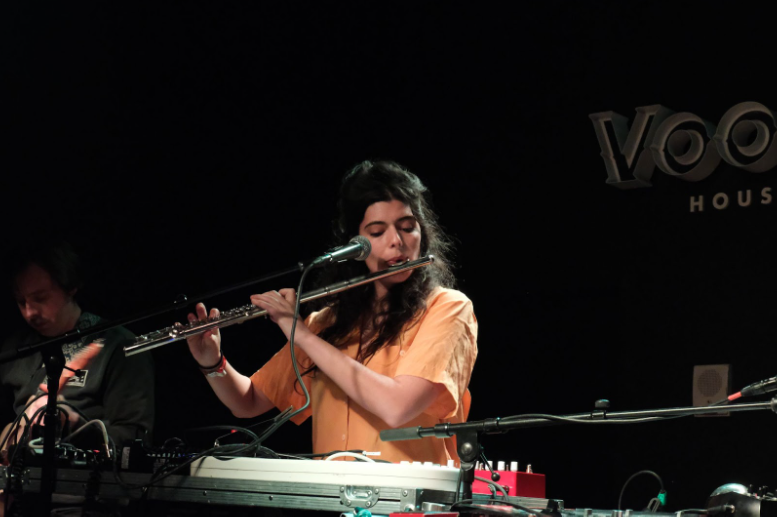 Lead singer Davis, would lead into their song "Treasure Island" saying as we have beaches
here in San Diego," this one is about a favorite beach of theirs in Florida." The song takes us
there as their signature effects, and lyrics of a special glow of the ocean and water, it's like i'm
there right now. The band's variety of featuring flute solos or sounds that seem like they're from
an Atari video game, make you feel in another world and you don't wanna leave.
As for me, I didn't leave for some time after the show had ended, and after buying two vinyl
copies of their albums, I was fortunate enough to ask a few questions to the duo afterwards.
What were some of the influences into your new album Coast 2 Coast?
Pearl & the Oysters: 70's Soft rock, Japanese City pop, Yacht rock. Then like Brazilian records
from maybe a little earlier like the mid 70's.
What was the inspiration behind the group name?
Pearl & the Oysters: Well my middle name is Pearl, and it was the name of my Great
Grandmother and my mom is a random band name generator, just ask her and she'll find cool
names and way before we had the band, she told me 'oh if you had like a band one day you
should like call it Pearl & the Oysters and so the band name came before the band.
How long have you been a band?
Pearl & the Oysters: 2017, that was the first show that we did. It's started like over five years
now, five, six years.
What's it like being able to have your first headline tour?
Pearl & the Oysters: It's been amazing. We've been touring America for a long time. This is
definitely a big change for us. We started from nothing in Florida a few years ago and when we
moved to L.A there was the pandemic and it just feels like it's growing organically very slowly
but we wouldn't change anything. Slow and steady.
I had a wonderful time being able to both see Tunewave and Pearl & the Oysters. Not only
being able to see Pearl & the Oysters live, but to take a picture with them and be able to spare a
few mins to let a freshman college student ask a few questions before they pack up meant a lot,
and I'm excited for their new album soon, and what's in store for the soft psychedelic band in
the near future.