By Jesse Miller and Ceceli Riffo-Drecksel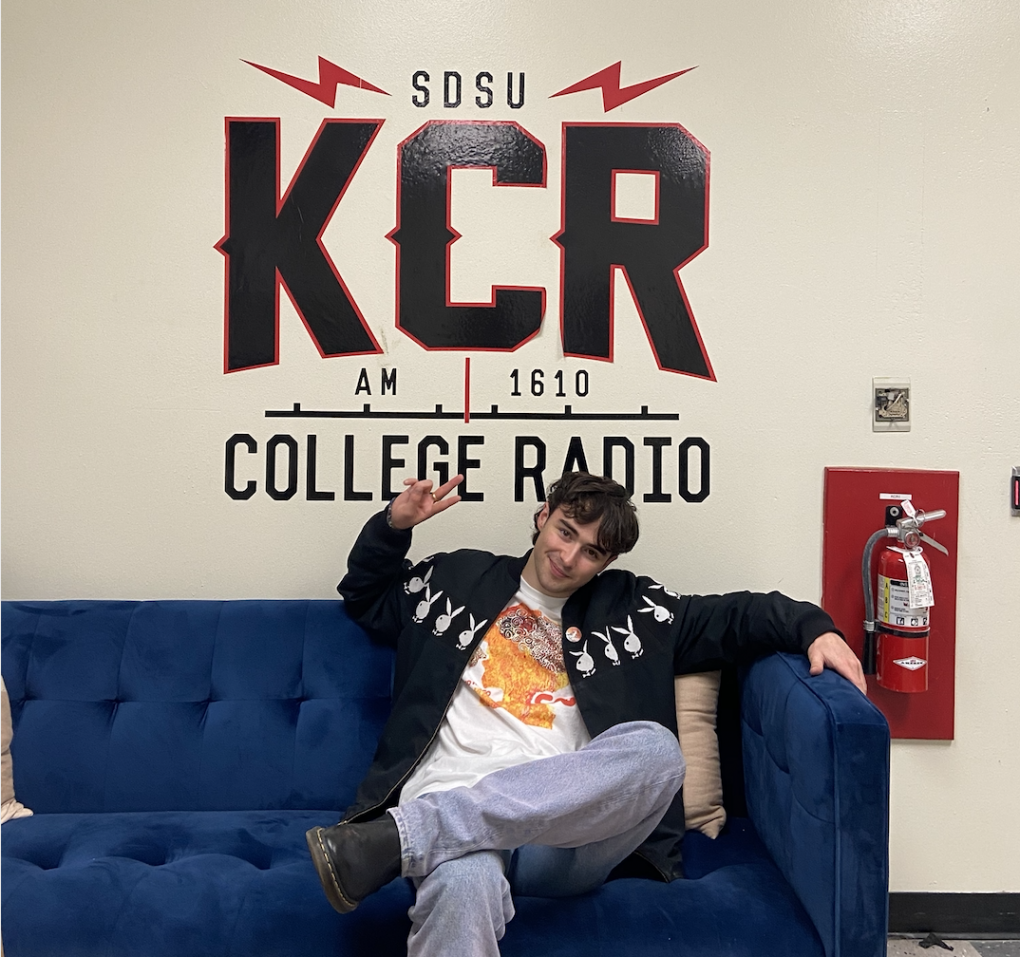 We had the pleasure of meeting and interviewing Alfie Templeman, a British singer-songwriter, multi-instrumentalist, and producer. Alfie is 18 years old and has already made a name for himself within the music world. Last Saturday, December 4th, he came into KCR's live studio to talk with us and we attended his concert at The House of Blues later that night. Here are some of the highlights from our interview with him on-air:
Tell us a little bit about yourself
"I'm from England. I make music in my bedroom and have been doing it for years now, I started on Bandcamp and Spotify. I did everything by myself – record all the songs and instruments. When I was 15, I was picked up by a label and ever since then, I've been doing that and it's really fun! Now I'm touring the states."

When did you start making music, what age, and how did you start?
"I started playing guitar when I was about 7, and I wasn't very good at it for a while 'cause I was too small to actually hold it in my arms, so I played it on my lap. When I was about 10 or 11, I had a really terrible laptop and got Audacity. I got garageband after that which made it a lot easier since I had built in presets. I eventually started using logic and that's how I do all of it now."

You recently just released a song with Chloe Moriondo and Thomas Headon called "Dizzy", tell us about the process of making that and how the creative process worked?
"It was crazy because when we did it, we hadn't actually met each other in person, and Thomas and Chloe still haven't met! We did it all online on facetime which was really weird, you don't hear of many songs made that way. They would just send them singing to me and I'd put it on a logic file and put it together. I've done it quite a few times actually, I worked with this guy called Carpet Gun and did some stuff with them online and stuff. It's really fun and a good challenge. I like doing it like that but at the same time I'm excited to do more stuff with them in person because they're lovely people to work with. It's hard to get the real-life personality across when everything you're doing isn't actually in the same room."

Tell us a bit about where you were when COVID hit and how it's shifted your way around writing, producing, and releasing music
"I was at home kind of daydreaming about touring. When we went into lockdown I was back at Bedford in my house with the family so everything was fine. I thought it would be easier to make songs but when I tried to record in my bedroom, I had nothing to sing about. For months, I kind of sat there, thinking, 'Help?'… I eventually kind of started messing around, not making proper songs or singing about really serious stuff, just making fun stuff to keep me going. I was fed up with watching youtube videos and eating fast food all the time. I tried to do something productive and it took a lot longer. I used to make songs everyday and I don't do it quite nearly as often. The pandemic has honestly made the songs a lot stronger because I've learned to be patient and take more time with them. In a way, I'm actually quite thankful for it. I still put stuff out, so at least I'm doing something!"

What's your favorite song you've ever written?
"Out of all the ones that are out, there's one called 'Everybody's Gonna Love Somebody' that came out this year. I wrote it when I was 14, actually, but I kind of did it up a little bit. It started off as a disco song, and I wanted to make something very universal and simple. I got a lot of inspiration for it from Tears for Fears and Phil Collins. It was all done in my bedroom and directly through a pedalboard DI. It only took about 2 hours to make. There's also a song on the new record that's called "Just Below The Above ' that I started when I was 14 as well. It's very Radiohead-y and has Pink Floyd and Queen in there as well. It's quite proggy and weird but it finishes the record and I think it's the best song I've made. I'm really excited to put it out there. My new record is a concept record as well."

What's the longest a song has taken you to make / finish?
"'Dizzy' took a while, since we were procrastinating a lot and everything was so busy. Some of the songs on this new record took a while as well actually. I have a song called "Happiness in Liquid Form" that took only about 2 hours. So some of them take no time at all, you don't know where the time goes. But it's super fun and therapeutic. There's no rules and I've never had a lesson in production so I have very weird approaches to producing."

What's been your favorite stop so far on tour?
"New York was amazing. We went to Joe's pizza and I really liked the crowd in New York, it was super special. We were supporting Chloe Moriondo so we haven't done a headline show there just yet. Some girl shouted my name in the streets of New York and someone came up to me at Amoeba the other day… It was really weird. We made a stop in Toronto and it was really cool. It was really cold and so was Boston. Los Angeles and San Francisco have been my favorites. I really like California. I really can't choose."

What were your top 5 artists this year?
"Todd Rungren, Genesis, Mac Demarco, Jamiroquai, The Beatles. Space Cowboy by Jamiroquai was my top song."

What are some of your musical guilty pleasures?
"Genesis, Phil Collins, Charlie Puth"

What are your biggest influences?
"It changes an awful lot but Hiatus Kaiyote is a great new soul band and the singer is incredible. I've been listening to a lot of Leon Bridges and Frank Ocean. There's also an album that came out in the 70's, it's called 'Plantasia' which is an amazing record and it inspires me to use my Moog. Todd Rundgren, especially his song 'Cold Morning Light'."

How long have you been working on your next album for? When will it be released?
"I've been working on it for 2 years. It's gonna come out next year. I've never worked on something that long but it's done, mastered, and has artwork. It's called 'Mellow Moon'. I'm really excited to put it out. I really enjoy collaborating with others on artwork because it's exciting to see the finished project."

Tell us a bit about your side project
"I have a project called Ariel Days where I do all the art, music, instruments, producing, mixing, and artwork. I started it a few years ago after I got signed! It's something that I can do completely by myself. I started a label called Haunted Attic Records and I started doing Ariel Days and it started getting a lot of plays. I have complete creative control over everything. The music under it doesn't suit my other sound so it's nice to have the option to do whatever I want with that project and just experiment. It's nice to have options. There's a lot of artist pages on spotify that I've just put random songs on there and not told anyone."

How would you explain your sound?
"With the sound of Alfie Templeman, it changes but it's quite concise. It's quite colorful and still me. Ariel Days is a bit darker and more honest in places."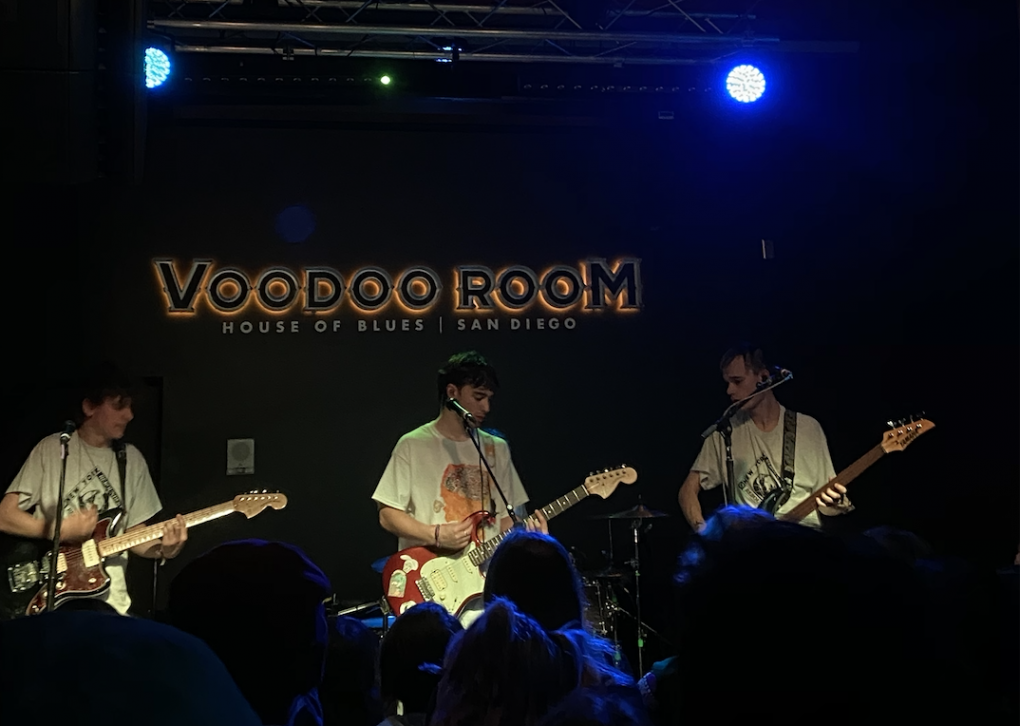 Alfie finished the last leg of his North American tour here in San Diego at The House of Blues Voodoo Room with openers Rebounder and Alix Page. He brought the room to life with his youthful presence and energetic performance. The colorful sound and sincere lyrics perfectly match Alfie's playful demeanor. The excitement of playing in front of a live audience exuded out of him. Alfie made sure to connect with the crowd during and after the show. He thanked the crowd for their claps and praise, and even spent time meeting fans once his set was over. We hope Alfie will be back in the states soon as he is set to release another album this coming year.
Be sure to check out Alfie Templeman on Spotify and Instagram!