The four musicians who graced SDSU's Cal Coast Open Air Theater this past Saturday call themselves The 1975, but those who have experienced the band's live performances are likely to leave the concert venue in a daze, enamored and convinced that Matty Healy, Adam Hann, George Daniel and Ross MacDonald are more than just pretty men who hold instruments in pretty lighting — they're modern demigods who deserve every ounce of recognition received. This amount of attention has immeasurably exploded over the past year, and the February 2016 release of the band's second album, I like it when you sleep, for you are so beautiful yet so unaware of it, has secured The 1975 a well-earned spot in the mainstream. Three years ago, the act was best known for their quirky name, song titles (e.g. "Chocolate" and "Milk") and heroin chic frontman, Healy. They assumed the roles of indie rockers, the guys who'd been jamming together since their grade school days back in '02, the ones whose first three EPs went uncharted and undetected by popular music radars. The aesthetic of the older 1975 — thematically black, white and experimental — was an acquired taste, and nothing like the band's current sound or image.
Today, The 1975 paints themselves in shades of blush and berry; their newer material is candy-like — bright, addictive and ready for mass consumption. But this fact doesn't lessen the band's artistic excellence. To the delight of veteran followers, 2016 has confirmed that The 1975's talent for creating meaningful, infectious pop is well and alive. And since there's no denying that passionate listeners are the driving force behind a musical act's success, we've spoken to a couple of longtime '75 fans, Nadine and Lauren, about their personal relationships with the band, their music, and how spiritual a 1975 show can really be. This interview has been edited for clarity and length.
How long have you been listening to The 1975 for?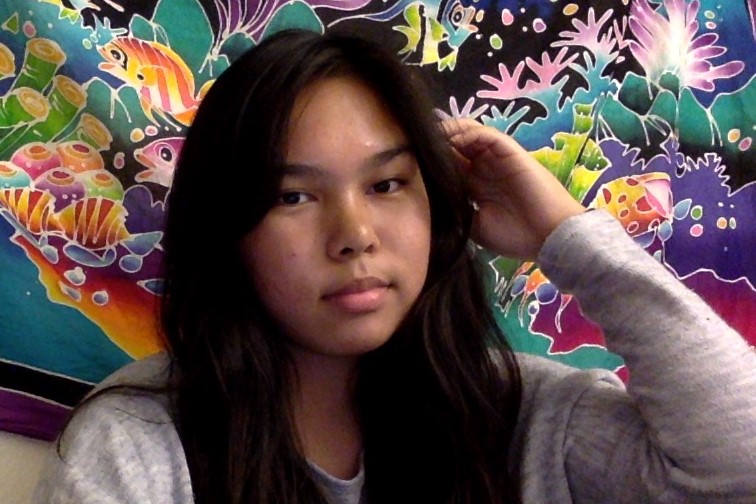 NADINE: Honestly, I can't even remember how I found The 1975. It's kind of like trying to remember how you met your best friend. I think I started listening to them about 3 or 4 years ago, when the original self-titled album came out.
LAUREN: I started listening to The 1975 in 2013, after their first album had already been released and they were a bit more popular. It was during my sophomore year of high school when I, like most people my age, was trying to figure myself out, so I felt drawn to their particular style and sound.
Interpret this question however you'd like, but what makes The 1975 uniquely them?
LAUREN: I think what makes The 1975 different is the amount of creativity and artistry that they invest into their videos and sets at concerts. The music represents the band members more than current popular sounds, and it's a reflection of their ideas and beliefs. For example, they'll have completely instrumental sets, and the music, in an odd way, characterizes their persona along with the videos and lighting that plays hand in hand with the track.
NADINE: It's funny, because The 1975 are pretty different from what I usually listen to, but I love them so much. But I mostly look for artists that stand out amongst other artists that are doing and saying the same things. Musically speaking, they're them because they have that kind of edge with their lyrics and sound. Like, when I listened to the first album, it just kind of clicked, like "yes, I am pleased by this," and just the sounds from the bass, guitar, piano, drums, voice — it all just goes together so well. "Girls," a track from their first album, pretty much shows all that, at least to me. I really like the song because it's upbeat and fun, but then it's also like, "No, this is not a cute, love story. Get out with that bubblegum pop princess sh**."
Okay, here's a toughie — you can only listen to one of their songs for the rest of your life. What track do you choose, and why?
NADINE: I think I would have to go with "Sex," which is also from their first album. I'm pretty sure that was the song that led me to them so it only makes sense that it'd be the song that I would listen to the rest of my life. I don't know, I think it's a cool song to hear with the tempo, drum beats, and guitar riffs. Not to mention the lyrics make up like a cool, short story. I think overall it's a song I could use for anything, like, "yeah, I'm a badass," or "yes, I have so much energy, I can head bang and air guitar to this." Plus, for me, it's nice to imagine myself as the "person in the song" because in high school I was the goody-two-shoes — I always left parties around midnight because my mom set my curfew and I didn't date. So to break that image, it's pretty empowering and thrilling. Like I said, badass vibes.
LAUREN: Okay, that is a toughie. I usually can't stick with one song for long, but if I had to, it would probably be "If I Believe You" from their most recent album, I like it when you sleep…. From the lyrics to the way the song is performed, I feel as if it characterizes a lot of emotions, and each time it plays, I can't ever skip it. It really emphasizes the writer's disassociation with God and the struggle to believe (in something), which strikes me as inspiring and is something I can really identify with.
Between 2013's The 1975 and today's I like it when you sleep…, longtime fans have witnessed the band's sound and aesthetic evolve and even contradict itself. How would you personally describe these changes?
NADINE: The changes from the first to second album remind me of something I saw on Tumblr. It's a text post about how there was a depressed boy who only painted in black and grey, but after he found his girlfriend, he started to paint in color. That's pretty much what these changes are to me; the sound and aesthetic went from "I don't care" to "I do care." I don't know if I would call it enlightenment, though, because there are still some of the same references to drugs and depression, etc. But it is growth and new inspiration. At the concert, Matty had a short monologue introducing "Loving Someone," where he talked about Brexit and how people should be thinking of others instead of themselves. And I get it — sometimes you have to go through sh** to get through sh**, if that makes any sense. I think with anything, change is always inevitable, especially for creative artists. So I'm not like, "What the hell are these changes?" I think if you really love an artist, you support them through everything. It's like when your crush gets a haircut and you either convince yourself they're still cute or fall for them even harder.
LAUREN: While I agree the 1975's sound has changed a little bit, I think it's just a reflection of changes the band members are going through. There is a lot of continuity from last album and this one, like the video parallels from "Robbers" and "Somebody Else," but their sound has definitely evolved. As time goes on music trends change — for instance, popular alternative music changed from rugged sounds like Stone Temple Pilots and Creed to pop-y sounding artists like Fitz and the Tantrums. I think change is good, and love the direction The 1975 are headed in.
Which is your favorite album of the two, and why?
LAUREN: If I had to choose, my favorite album of the two is their debut, The 1975, mainly because it's what attracted me to their style and aesthetic and represents a major part of my youth in high school. It has a lot of memories attached to it. But both are amazing.
NADINE: Hands down, it has got to be the first. You ever hear that sequels kill movies? That's how I feel about albums sometimes. It might be because I'm emotionally invested in the first album and can relate more to the whole "I don't need anyone, I'm (emotionally) dead inside" vibe. Like "Haunt // Bed" and "Robbers" are songs that I loved so much, and those are technically dark, cynical songs, but the album is more emotionally raw. I can't really relate to the love songs of I like it when you sleep…, mostly because I've never been in serious relationships. Plus, I'd rather worry about myself and figuring out who I am instead of like, dying from the feels. I have an ongoing crush that's like 3 years old now. I can't handle love songs that make my heart ache from all these scenarios. "Somebody Else" pretty much had me reevaluating my love life.
In five words, describe The 1975 concert experience.
NADINE: Sensory, feels, and aesthetic overload. If the "and" doesn't count, mind-blowing. Like, have you seen that meme where it's like, "When your favorite band is living and breathing in the same space as you, like they're really here?" That's how it feels. It's like the Second Coming of Jesus, like I'm seeing them in the flesh — the hair is real, the beard is real, the clothes are real, everything is real. I'm pretty sure I saw God in the strobe lights during "Sex."
LAUREN: Emotional, exhilarating, thought-provoking, satisfying and unifying. The music is performed passionately, and the show's lighting and image effects create an amazing, exhilarating experience. Matty's political commentary regarding the importance of young voters is enlightening, too. Unlike some concerts, The 1975's set didn't feel like it dragged on forever. There was a sense of unity among the audience members, and I felt like there were a lot of people that think the way I think, and believe what I believe.
Last question: what does The 1975's music mean to you? 
NADINE: It pretty much means that you're not the only one feeling like this, whatever "this" is. When I heard the first album, I think it clicked for me because I was going through a rough patch at that time, like a mini mid-life crisis, if that makes sense. And obviously life is just like this long-ass lesson, so we're always trying to find out who we are and where we stand, both intrapersonal and interpersonal, and that's what both albums are about. Their music is emotionally raw and true and that's why it's so easy to relate and connect to. Even if you haven't been put in those type of situations, you kind of put yourself in those shoes and see how it feels. And from that, especially with the music, it's kind of calming.
LAUREN: The 1975's music means so much to me because it's a reflection of myself: it's different, yet filled with plenty of emotion and layers of meaning. It doesn't adhere to standard pop culture trends and it stands as itself. It's distinct in its own right. While I wouldn't call myself a super-fan, I appreciate the artistry they bring to their music and am incredibly excited to see what's next!
For more information about The 1975, visit their website, Twitter, or Spotify page. Their upcoming tour dates can be found here.