While opening for Barns Courtney, UK band The Hunna performed a crowd pleasing show at the House of Blues on September 25, 2019.

Let's flashback to 2016. Picture me sitting in study hall in high school with my best friend Emma. We were listening to every single artist that would be playing Wayhome in the following summer. For those of you who do not know, Wayhome was a music festival about an hour north of Toronto. Emma types into YouTube, "The Hunna." She clicks on the first video, "Bonfire." I am hooked by about ten seconds in.
This is the story of how I found and fell in love with a band called The Hunna. The worst part about that story is that their former manager double booked them, two festivals in the UK that were the same time as two festivals in the US. Since this band is from Hertfordshire, England, they obviously chose the UK festivals. The Hunna formed in 2015, and is comprised of singer and guitarist Ryan (Tino) Potter, lead guitarist Daniel (BD) Dorney, bassist Junate (Prince) Angin, and drummer Jack (IK) Metcalfe.
Now, let's flashback to 2017. Picture me sitting in my quad dorm at my desk, getting ready to go out for the night. I am playing The Hunna, and I hear my roommate, Adrienne, singing along. I turn around and ask, "are you singing?" She of course responds, "yes," which has me screaming at her, "you know The Hunna?" That is how I knew Adrienne and I were going to be friends forever.
I finally got to see The Hunna live in April 2018, with Adrienne. They headlined the House of Blues in San Diego. It was one of the best shows I have ever been to, and I got to talk to the band after the show. That day, Tino got a tattoo that says, "Y.D.W.I.W.M." which is one of their songs. They are genuinely the nicest people, and they even recorded a video saying hello to my mom. My mom is a humongous The Hunna fan. Since The Hunna rarely tour the US, I really did not know when I would get to see them live again.

On September 26, I finally got to see The Hunna again, but this time from the photo pit at the House of Blues. They played a total of nine songs: We Could Be, Fever, Babe Can I Call?, IGHTF, Flickin' Your Hair, Y.D.W.I.W.M., She's Casual, Bonfire and D. G. A. F. They stopped to talk about a lot of the meanings behind their songs, or stories that had to do with a specific song. My favorite story that they told that night was about "She's Casual". It was the first song they had ever written together. It was written in a shed while they were all stoned out of their minds, and they didn't believe that they wrote that good of a song because of how high they were. The crowd was going absolutely wild for The Hunna, which seemed to shock the band. Everyone was screaming the words right back at them, which made Tino state that San Diego was the best date of the tour yet. My favorite part of the entire show was seeing all the middle-aged women dance and sing along to them. They reminded me of how much my mom loves them, and made me smile. Their set ended with Tino crowd surfing, which was another highlight of my night.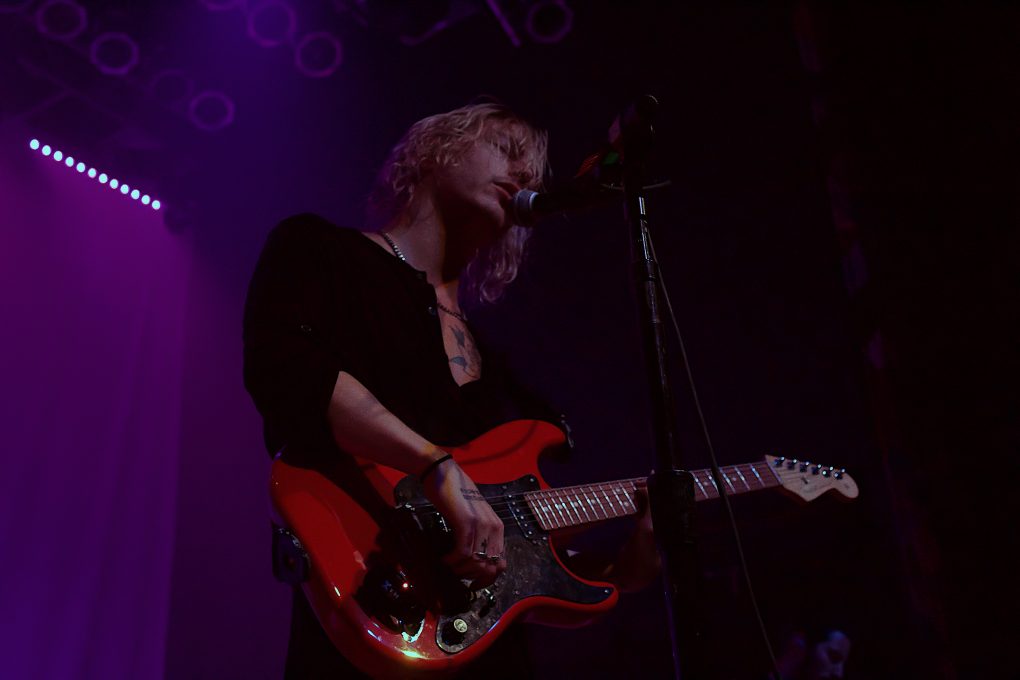 The Hunna opened up for Barns Courtney, and to be quite honest, I had never heard of him until I saw his name on the bill. Standing in the photo pit before he came on, I did not know what to expect. When he came out on stage, the energy in the room shifted and exuded so much happiness. Barns' stage presence is something you rarely see anymore. He was wild, carefree, and happy, all while jumping around. He reminded me of Catfish and the Bottlemen, mixed with Yungblud. I really enjoyed his music, and especially enjoyed his stage presence.
The Hunna did say that they will be back early next year, and that music will be released around the same time. In the meantime, you can listen to The Hunna here, and Barns Courtney here. 

Written by: McCaeley O'Rourke

Photos by: McCaeley O'Rourke