Seeing Tame Impala live at Treasure Island Music Festival was an opportunity I'd never dreamed of experiencing. 
Led by record-producer and multi-instrumentalist Kevin Parker, Tame Impala is one of the world's greatest mysteries. After being blown away by them, I wrote about the whole experience for those looking to experience it themselves.

The show:
Opening with the short interlude "Nangs" gave the perfect vibe of what the show would be like. The crowd was enticed by the fog pouring in from both sides of the stage, while the slowly changing lights immersed us all into the trip we were about to undertake. Slowly but surely, Kevin Parker's voice began to sing "but is there something more than that?" Who knew 7 words could elicit such a feeling of love and excitement from a group of fans.
Tame Impala followed this moment with their hit single, "Let It Happen." At this point, lasers began to shine, which seemed almost close enough to touch. The lasers bounced to the bass, following the sound at each turn as if they were magically being shot out of the band's instruments. I felt as if it was the first time I was hearing the song even though I knew all of the words. As the song transitioned, Kevin did something we didn't expect; He had the audience clap along, something you usually wouldn't see at a psychedelic rock concert. He transformed us into instruments, adding percussion with our hands.
"Are you ready?" Kevin asked. And suddenly, confetti was covering the sky. The visuals at this concert were nothing short of breathtaking, seductive even.

Tame Impala proceeded to throw it back with "Sundown Syndrome," their first official 2009 single. Being a sultry song, the band shifted the music into having a jazzier flow, while Kevin's soft spoken vocals taught us how to sway.
"The Moment" started and at this point we were all in our own little worlds. It's such a fun and easy going song, it's hard not to dance along. The band followed this with a snippet of  "Sestri Levante" to get us into the mood for something amazing: "Elephant." This ultimate classic had us all on another level. If you've ever seen the Disney movie Dumbo, the song is literally like that one scene with the elephants where you think you're on drugs. It's crazy and hypnotic, and Kevin was throwing us through the ringer.
"Why Won't You Make Up Your Mind?" was a very hardcore song compared to the others. It was almost like we were in the studio with Kevin as he wrote out the words, unsure and scared of what the feelings he was having meant. Next, "Eventually" came on with its' distorted and romantic chords. The visuals for this song were also out of this world. The layers of lasers were immersed into a moving cloudy sky of light, flowing with the sound of the guitar. This song is heavily drum based compared to the other songs, so it was amazing to see how they added everything together in person.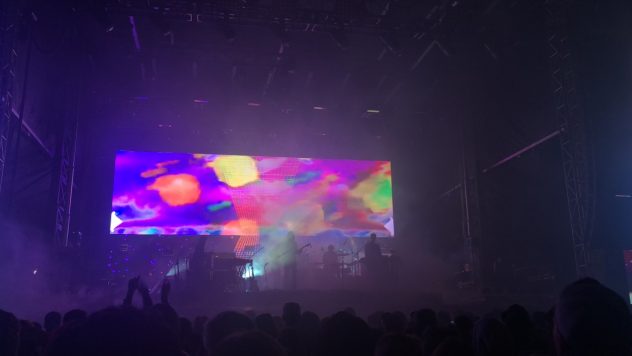 Afterwards, "Yes I'm Changing" threw everyone into a reflective mood, as the song holds feelings of love and heartache. This song is about growing and becoming a better person, but not forgetting about who you are and not letting your past hold you down. "There is another future waiting there for you" he sang, telling us all that there is so much we can do to change. This song is the perfect mix of nostalgia and yearning. If you're going through anything right now, this is the song to listen to. It's hopeful, and it really makes you think.
The almost romantic but somehow savage song that is "The Less I Know The Better" started playing and we were all in a daze. If you haven't heard this song before, I would stop what you're doing right now and look it up. That's it, I can't ruin it, you'll have to listen to it for yourself.
Amongst the excitement and shock of hearing that song live, the audience was blown away by something none of us expected. Tame Impala's first performance of "Jeremy's Storm" since November 2012. We were truly lucky to be there and be witnessing something like this. Kevin even said himself that they didn't even soundcheck it and they were just going to go for it. This song had the most simple visuals which really showed off the bands' roots. 
"Love/Paranoia" was like a lullaby to us all, waking us up to the dreams that the song emitted. For a song about cheating, it's one of their most beautiful songs. It feels almost as if you're trapped in a loop, trying to push out and escape. And somehow, Tame Impala makes it feel like you want to be there.
"Alter Ego" felt like we were all going through some sort of time machine into the past. And it was almost as if we were all traveling together, on a journey to trying to go back to the beginning of the show, knowing the end of it was near. "Apocalypse Dreams" rang out like a cry as we all danced, not wanting it to ever end. One of their longer songs, it was perfect to end on.
Beginning the encore, "Feels Like We Only Go Backwards" played with a feeling of hope. Right as the song started, confetti filled the air and we were all moving in the air with it. I was realizing in this point that it really was the end of the show, and this was Tame Impala in their purest form. I didn't want it to end.
Their last song was introduced with Kevin saying some parting words. "We will see you real soon, I promise," he said, as "New Person, Same Old Mistakes" began. Everyone was holding onto his words of 'seeing us real soon', because he was still in front of us! During the interlude, Kevin spoke: "Alright guys. This is it! This is the last one. We will see you really soon. We love you! Thank you." Confetti filled the sky one last time. It was the hardest goodbye.
WHAT NOW?
If you ever have the chance to see Tame Impala live, DO IT. Tame Impala has perfected this art of psychedelic, sexy, but somehow distorted way of catching your eye and making you never want to turn back. It was one of the most magical shows I have ever experienced, and for that I am so grateful, and excited, for what is to come with Tame Impala's future. According to Kevin, we'll be seeing them "real soon", and I'll be sure to hold him to that.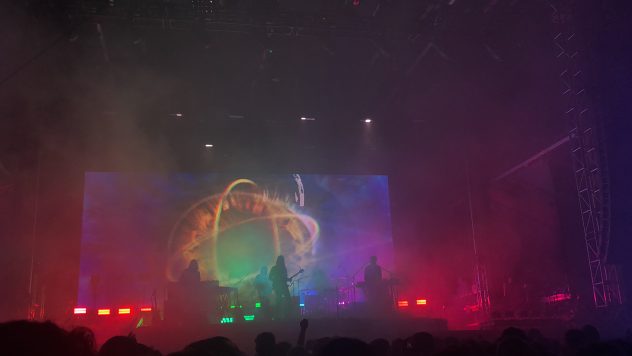 Photos by: Brittany Roache
Written by: Molly Atkins