The SwuM/TVBOO show at Music Box was a bass thumping, energy-inducing high of good-vibing music.
Held at the Music Box in downtown San Diego, the show catered to people of all ages, but targeted the young in the community (18+, although I did see a couple 12 year olds running around). Although the advertising mainly promoted SwuM & TVBOO, there were several opening acts consisting of talented/young DJ's & musicians who are breaking into the industry. I am proud and honored to say that not one, but two of my coworkers performed that night and amazed myself and the audience with their immense skill.
Doors opened around 7pm and people flooded in ready to experience a great environment.
The venue itself had a bar for those who were of age, and a merchandise shop to pull in some extra revenue. While there was little to no sitting room (not including VIP), it was not really needed as the crowd preferred a more open area to jump along to the bumping music.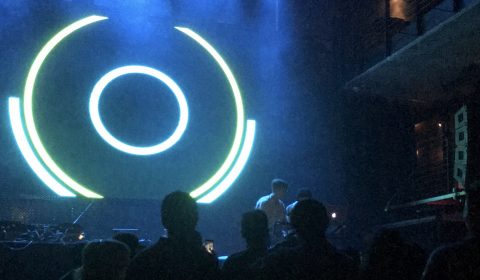 Kastro opened the evening as the venue opened to the public, and introduced us to the wonderful evening and mood that would be set for the evening. My coworker, Domoniqxe, went on next and showcased some amazing original compositions that the crowd really enjoyed. She then handed the floor to Lydon (another coworker of mine) & Zuma who really got the crowd moving with some bass-heavy mixes. Both of them served as DJ's as well as MC's and worked well with one another. From there, there were a few more wonderful openers before the main acts came on stage. SwuM is notorious for the lo-fi genre and catered to audience seamlessly.
TVBOO is a more hype edm/dubstep type artist and was saved for later in the night. Some people only went for the latter of the two as TVBOO creates a different atmosphere than SwuM. Having the two perform in the same night was a good move though because electronic artists have such a wide variety of fans that can vibe together.
All in all, it was a wonderful show made possible by talented artists, dedicated people, and a great venue. I hope to see everyone artist again in the future, maybe even on a bigger stage.
A major shoutout is also in order for Lydon & Domoniqxe as they publicized the event to a large majority of San Diego State University students.
Written by: Eduardo Orozco
Pictures by: Eduardo Orozco