In week 13 of the Indoor Football League, San Diego Strike Force lost 84-63 to the Arizona Rattlers. This marks the third consecutive Strike Force loss to Arizona this season.

San Diego entered Sunday's matchup as the IFL's third ranked passing offense accumulating 165 yards per game, while Arizona began the night as the league's best pass defense allowing only 135 yards per game. The Strike Force now sits at 1-10 with three games left in their inaugural season. San Diego has lost to Arizona by a combined 92 points in their first three matchups.

On Sunday, the Strike Force scored the most points in franchise history with 63 total points. Quarterback Jihad Vercher threw six touchdowns and two interceptions for the Strike Force, continuing a string of strong offensive performances.

Last week the Strike Force lost 65-48 to the Tucson Sugar Skulls, but the Strike Force quarterback completed 11-17 throws for 160 yards and three touchdowns.

"I might've been sacked once maybe twice [tonight], but when you get sacked once or twice in a game you can't expect not to put up points. I give all the credit to the offensive line, the receivers went and made plays today…to say I led the way I was a small part of it."


Jihad Vercher
It was a tale of two halves, as the Strike Force played the Rattlers closely until the third quarter. The first half saw 77 points and six lead changes between the two teams. The Rattlers closed the first half up 42-35, they also were 100% on third down.

In the first half of tonight's game San Diego's defense was led by defensive back Omar Cook, who had four solo tackles at halftime. For the Rattlers, quarterback Drew Powell threw three touchdowns on just seven attempts.

As the game went on, the Rattlers became stronger on both sides of the ball, they finished the game 100% on third down and out-rushed the Strike Force by 78 yards.

Powell scored for four rushing touchdowns in the second half. He finished with five rushing touchdowns, 104 rushing yards, and four passing touchdowns.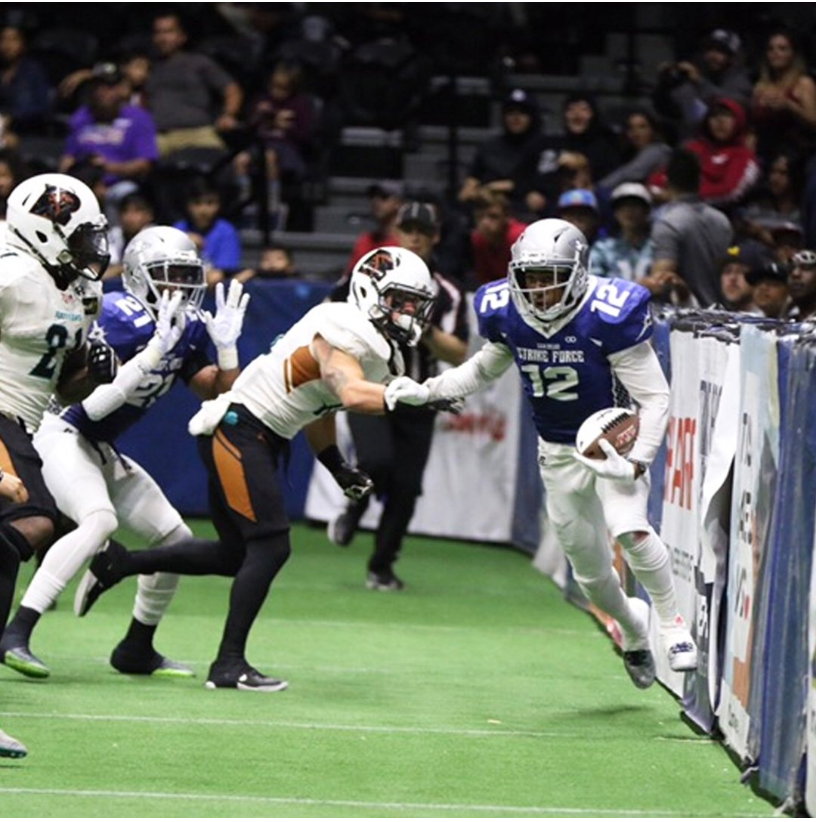 Strike Force running back Dominique Carson scored two touchdowns on only five catches and rushed for one touchdown on four attempts . He has set a goal for himself and the team.

"I would like to get to 25 touchdowns, I have only been playing here for two weeks, but at the same time I am just trying to win with the team so we can show San Diego what we're about."


Dominique Carson
Carson would have to score 21 touchdown in the final three weeks. In the team's final three games the coaching staff and offensive coordinator Taylor Genuser want to see effort and commitment.

"We have to help our defense and put them in better situations and give them a chance to play defense with the lead instead of playing from behind. I want guys to compete. I want to see guys that want to move up to the next level, that want to play hard, that want to get in the endzone, and most importantly want to be good teammates."

Taylor Genuser
Written by: Daniel Farr