Local San Diego DMV will be hosting a "Real ID" event to help you get a jump start on ordering your "Real I.D." before the October 1 deadline.
October 1 is right around the corner, and California I.D.s along with Driver's License have changes coming. For travelers, you will be required to present a "REAL ID" driver's license, "Real ID" I.D. card, or valid passport to board domestic flights, access federal buildings, and or military bases.
Preparing for the October 1 deadline, the Department of Motor Vehicles (D.M.V.) office in San Ysidro will be hosting a "REAL ID Saturday" event. The event is for those wanting to apply for their "REAL ID" early. The event will be Saturday, February 22, 2020, from 8:00 am to 5:00 pm. No appointment needed for this event. Before arriving, save time and complete the application online so that D.M.V. can look you up quickly; and be ready to present required documents to your clerk.
Required documents to obtain a REAL ID include:
Completing the online REAL ID application
One proof of identity
One proof of Social Security number
Two proofs of California residency
Click here to view documents accepted as proof. And click here to use the interactive checklist to make sure you're ready to go for Saturday. Unfortunately, you are not able to submit the necessary documentation online.
If you're unable to attend the event, no worries, there is still time before the October 1 deadline. However, D.M.V. recommends applying for your "Real ID" sooner rather than later and to make an appointment at a D.M.V. office, instead of walking in as wait time will be shorter with an appointment. Make an appointment online with D.M.V. here.
If you decline to get a real I.D., the next time you renew or apply for a driver's license or I.D. card, it will read "Federal Limits Apply" at the top right corner of your card. "Federal Limits Apply" means you will not be able to board domestic flights, visit secure federal buildings, or military bases starting October 1, 2020.V
A sample of what the new California I.D. will look like are listed below along with a brief description of what each I.D. allows.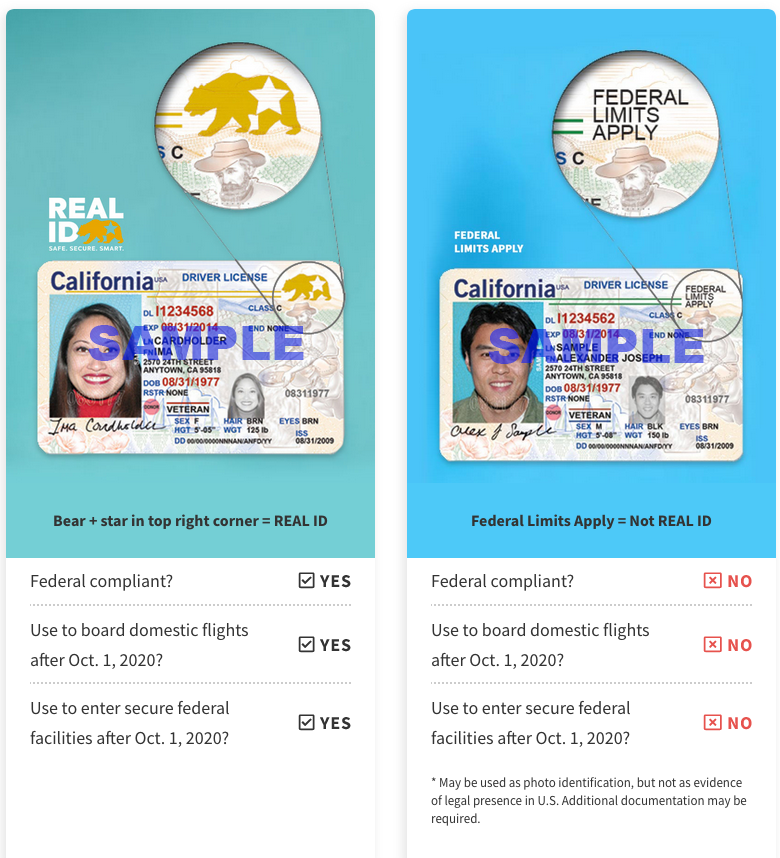 Written By: Mike Stark