If you want to have a great time at a concert dancing and singing the night away – Go to a Julia Michaels Concert!
You truly won't regret it. Both Julia Michaels' energy and her audience's energy filled the room. I can honestly say that her concert was one of the most fun ones I've been to simply because she had the loudest crowd.

Julia Michaels sold out her 9th headlining show for her Inner Monologue Tour at House of Blues San Diego on April 20, 2019. She is a very busy artist as she is also currently touring with P!nk on her Beautiful Trauma Tour at the same time as her Inner Monologue Tour.
Many of you may know Julia Michaels. However, if you've never heard of her, then you've most likely heard her hit single, "Issues." Before that, Michaels was writing hit singles for other artists such as Justin Bieber's "Sorry," Selena Gomez's "Bad Liar," Nick Jonas's "Close," and many more.

What is interesting about Michaels is she's an intricate person – I'd describe her as a beautiful badass with her signature feminine floral dresses and her tattoo sleeves and nose ring. She has a very distinctive and different sound than most artists and her voice is easily recognizable.  Michaels is also a very open musician, which was the concept behind her "Inner Monologue" – those thoughts that she has that people don't see from the outside. The stage represented what you see on the outside – everything is happy with smiley faces and flowers, but you listen to the lyrics and realize everything isn't all sunshine and rainbows.

Michaels attempted to make her tour relatable by letting her fans know that it's okay to go through depression or anxiety.
Julia Michaels made it clear that it was a judgement free zone and safe space for everyone to let go and sing and dance. Her music has a feel good vibe to it, and it was so much fun letting loose and relieving stress by screaming along to her songs. Additionally, her songs hold a lot of emotion and truth, so it naturally felt as though this was a place to just let everything out.

Julia Michaels has such a strong connection with her audience, she wanted to get as close to them as possible.
At one point, Michaels' security carried her into the audience as she finished "Happy," followed by a cover of Cee Lo Green's "Forget You," and then a ukulele rendition of her own song "Apple." She also sat on the edge of the stage pointing out her audience's posters and making eye contact with fans. I even heard from some fans that the meet and greet took two hours because she's so genuine and her conversations with each individual were long and personal.

I love how you could tell the audience truly admires Julia as they all had matching floral dresses and sneakers similar to Julia's. But despite their elegant appearance, they were definitely one of the loudest audiences I've ever heard in a venue. Sometimes, you couldn't even hear Julia because the audience had so much passion and energy! It's amazing when songs from concerts become your new favorites because of how amazing and fun they sound live – and for me those songs were"Into You" and "Happy."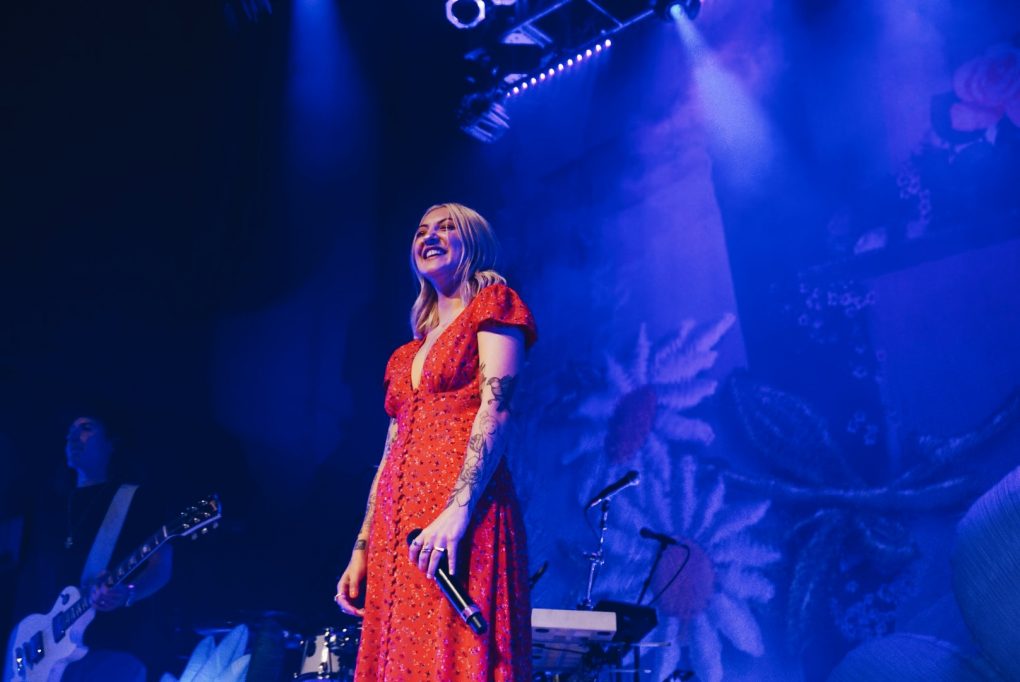 I loved getting the opportunity to see Julia Michaels. Her message she imparted that you shouldn't be afraid to be yourself and let your feelings out deeply resonated with me. If you want to have one of these fantastic nights with an amazing artist, make sure to go see Julia Michaels on her Inner Monologue Tour.
Review By: Alexandra Will

Photos By: Alexandra Will