On Thursday, March 2nd, I had a last-minute phone interview with Nathan Stocker, the guitarist from the indie rock band Hippo Campus. He came across as a nice, sincere guy with an undeniable passion for music both in person and onstage.
This interview, a month in the making, was an eye-opening experience, as I was able to talk to the guitarist of one of my favorite bands. Nathan Stocker was a complete sweetheart, responding with well thought out and genuine answers that made me love the band more – if that's even possible. I nervously asked questions that touched on the inspirations for their newest album, "Landmark." The songs on the album reflect the future sound of the band, and Stocker's guitar setup. He appreciated my "attentive" comments on the combinations of the guitar accompaniment with the lead singer's melodic vocals. He explained how the sound of "Landmark" demonstrates a progression in musicality as the band continues to experiment with different sounds and techniques; being stagnant is not an option.
Stocker also commented on how crazy their journey has been – from playing in garages to playing at Lollapalooza. However, Hippo Campus still finds its greatest support at local shows in Minnesota.
I had the opportunity to see Stocker's guitar prowess during the Hippo Campus concert at the House of Blues later that night. From the opening band Avid Dancer (who put on a solid performance) to Hippo Campus's first song, "Sun Veins," I was filled with excitement and anticipation. And, I was not disappointed. From start to finish, the group put on a stellar show with a sixteen-song setlist that included oldies such as "Little Grace," "Bashful Creatures" and "Sophie So," and newbies such as "Simple Season" and "Western Kids." The old and the new equally excited the hyped up crowd.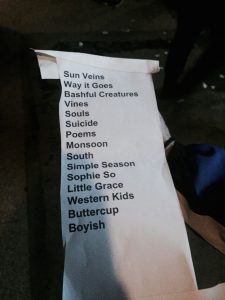 What impressed me the most was Hippo Campus' ability to sound even better live than they do on the album. Jake Luppen's vocals coupled with the band's harmonies were an infectious duo. His vibrato, falsetto and playful vocal melodies demonstrated his talent as a lead singer and made the show an even more memorable experience. Stocker's guitar skills melded perfectly with Luppen's voice, incorporating bouncy riffs and licks that gave the songs character. Adding depth to their performance was Zach Sutton's bass. For a tall guy with glasses, his groove was smooth and his dance moves were even smoother. Sutton knows his way around those four strings, and proves that bassists are an integral part of any band. Last but not least, Whistler Allen climbed his way to one of the top spots of my list of favorite drummers. Songs like "Western Kids" show off his funky style of drumming. The group had me bobbing my head the entire time.
Hippo Campus
is a group of talented individuals who come together to put on unforgettable performances. Amazingly, I had the chance to meet all the members after the concert. I introduced myself to Nathan, and it made me so happy when he remembered our earlier conversation.
If you have never listened to Hippo Campus, please do. You won't regret it. They don't try too hard to fit the "indie" genre, and they have formulated a sound so unique that it's basically irresistible. Thank you for the great night, Hippo Campus.
Featured Image by Rica Perez.