Since 2007, Gabrielle Smith has been making music as Eskimeaux, often collaborating with fellow members of The Epoch, a Brooklyn-based collective of artists and songwriters. With a discography ranging in style from experimental ambient to colorful and upbeat pop, each listen of an Eskimeaux album is a new and refreshing experience on its own. After having spent most of 2014 touring with her various bands (including Frankie Cosmos and Told Slant), Smith is gearing up for the release of her newest album O.K. this May (the first single "Broken Necks" can be heard below). I caught up with Smith shortly before the start of her tour with Crying to discuss home recording, her roots in songwriting, and a look back on the past few years.
Joey Bautista: How long have you been going by Eskimeaux, and what is the inspiration behind the name?
Gabrielle Smith: I've been using the moniker Eskimeaux since 2007. I created the band name for three reasons. Firstly, it was important to me that it was "easily google-able." Secondly, I wanted the name to represent me. I was adopted and the only part of my heritage that we know is that I am part Tlingit, indigenous peoples from the Pacific Northwest. Thirdly, I wanted the name to represent my sound. I think of the music I make as layers upon layers of sounds that all come together to make a simple thing: a song. That's where -eaux comes from; it's a jumble of letters that all come together to create the simple "o" sound.
JB: What were your first experiences with recording music?
GS: I had a handful of experiences recording music in a really entry-level way, but there were a couple of pivotal moments in the beginning of Eskimeaux that were important.
One was hearing and learning about the recording process of Brandon Can't Dance. His songs were these really interesting, super-short, layered recordings that he made on the Windows Voice Recorder. I don't know if you have ever seen that program, but it's extremely primitive and is basically just for quick voice-memos. It actually has to be tricked into making multi-tracked recordings. And yet, he would make really complex songs with multiple instruments. I was really inspired not only by his music, but by how possible it was to make really personal, short songs. I felt really connected to the music he was making even though usually the songs were only one minute long and had maybe two sentences for the lyrics. I remember a while later when I showed him GarageBand for the first time — he was astounded by the ability to see, edit, and effect multiple tracks, it was really funny.
The other was watching Ben Schurr from Br'er record. I went to visit him in Philadelphia when he was working on an EP called Filled With Guilt and Diamonds. His songs were incredibly complicated, combining orchestral arrangements, noise elements, and passionate, dark songwriting. He would record in Cubase, a program that is still over my head, even after working with it on one of the later Eskimeaux albums with him. The whole time I was visiting him, which was about two weeks, he worked on the recordings, including having Nat Baldwin come over and record some upright bass for him. It was so crazy to me that someone could have such dense compositions all worked out in their head! And then to just make it happen! It was very inspiring and after that experience I set out to (try to) make work like that.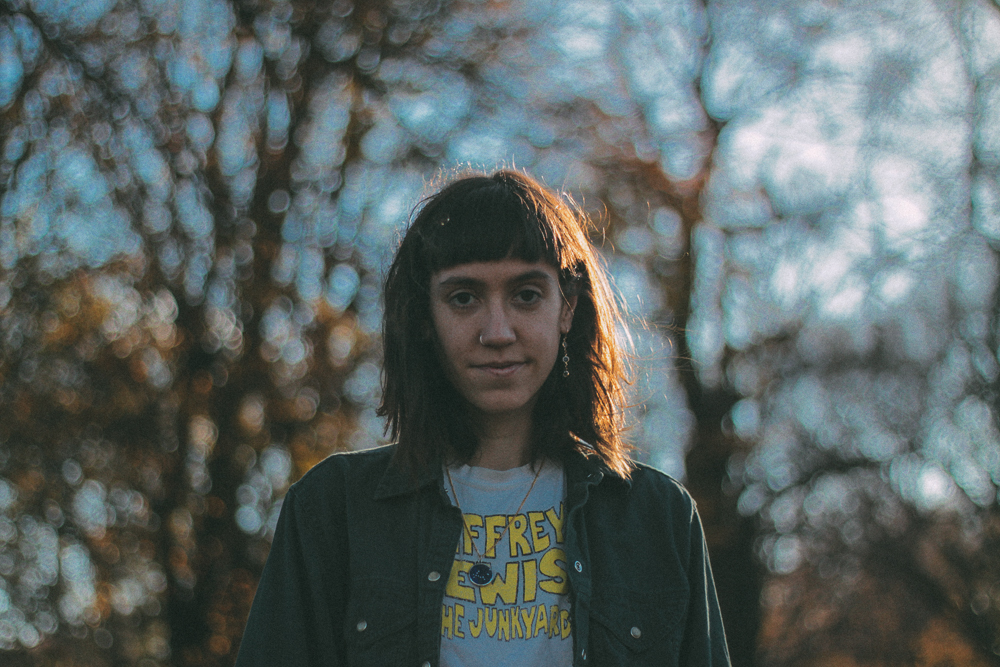 JB: Your upcoming album O.K. is being released in May on Double Double Whammy. How did you get involved with the label?
GS: Dave Benton reached out to me over the summer (of 2014), just to see what I was working on. I was on tour with Told Slant at the time, but I told him that when I got home I would send him my latest recordings. I had met them through their work with Frankie Cosmos.
JB: O.K. features reworkings of several songs that were originally home demos on Igluenza. Could you describe what your home recording setup is like?
GS: My home recording set up, for Igluenza (and all of my demos), was mostly GarageBand and a Yeti microphone. For O.K. we set up Jack Greenleaf's fancy desktop with Logic on it in this funny, tiny, window-less room in our house (which basically just became Jack's bedroom at a certain point). He also has a really cool, eight-channel interface that we used a bunch, but most of the vocals were still recorded on the Yeti in GarageBand.
JB: Where do you draw inspiration for lyrics? They're often among the most captivating elements of your music.
GS: I would say that my most important lyrical influences are Phil Elverum, Joanna Newsom, Frankie Cosmos, Bellows, and Adrian Orange. Whenever I'm writing poems (which later turn into songs, for the most part), I think to myself, "how would ____________ see this?" Obviously I could never know that, so their influence gets pushed through my filter and becomes a song.
JB: How has playing in several different bands influenced your songwriting process as a solo artist?
GS: It has influenced it a lot! First and foremost, being in all of the bands I'm in (and have been in in the past) and playing different instruments for each has made me a much better musician. I started out writing music with a basic knowledge of violin and proper choral singing. Now, I can confidently say that I am proficient at guitar, singing, bass, synthesizer, keyboard, and violin. I wouldn't say I'm "good" at it, but I even got to learn how to play cello for one band I used to be in.
Being in a bunch of projects has also given me the opportunity to see music through a lot of different eyes. Told Slant, Frankie Cosmos, Bellows, Real Life Buildings, and Eskimeaux songs are all written from completely different perspectives and therefore have to be arranged in completely different ways. I get to be "behind the scenes" for all of it, so I can take my new knowledge home and apply it experimentally to my own work. It makes songwriting really exciting!
JB: What have you been listening to lately?
GS: Lately, I've been listening to a lot of Girlpool, Krill, Taylor Swift, Mitski, and Frankie Cosmos. Also in the car, since we only have a CD player, we listen to Hall & Oates, Celestial Shore, the Empire Records soundtrack, and also Girlpool. A lot of Girlpool.
JB: You've done an extensive amount of touring over the past several months, and you have another one coming up at the end of the month with Crying. What's the most important thing you've learned after so many hours on the road?
GS: I've learned that sometimes you just need to have a hot meal.
JB: You released your first album as Eskimeaux way back in 2008. Having been at this for seven years now, what's going through your head at this point in your life?
GS: Every time I release an album that is important to me I take a break from songwriting to enjoy what I've accomplished and let ideas accrue. Now, I feel like that break is over!
---
More info on Eskimeaux's upcoming tour with Crying can be found here.
O.K. will be released on May 12 by Double Double Whammy (now available for pre-order).
Photos courtesy of Andrew Piccone.