Clairo played a sold-out show at the House of Blues San Diego on October 18th and certainly did not leave her fans disappointed.
The 21-year-old lo-fi bedroom pop singer, Claire Cottrill, has recently blown up after the release of her debut full-length album, Immunity, gaining positive feedback from fans and critics alike. It was only about two years ago since Clairo released "Pretty Girl" on YouTube and took the world by storm.

Being a huge Clairo fan myself, I was excited to see what type of crowd she would attract to her sold-old show. I have only seen Clairo perform once and it was at Coachella 2019, where the crowd was small and her set was short. While it was clear that the show was all ages, there was a large representation from Clairo's young fanbase. At first, I was surprised to see so many young teens in baggy pants and oversized graphic-tees, but I realized they matched Clairo's aesthetic almost perfectly. Regardless of age, the crowd had high energy that radiated throughout the venue. There were smiles all around, and I could tell that everyone in the room wholeheartedly loves Clairo and that they were ready for a memorable night.
Hello Yello at HOB SD, 10/18/19

Photos by: Brittany Roache
First to take the stage was Oakland-based band, Hello Yello. This punk-alternative-rock band came on stage with high energy and even got the crowd moshing at some points. The band recently released their first EP, Love Wins, and played a few tracks before getting the audience ready for what's to come.
The next opener was Beabadoobee, staring Filipino-British indie singer Bea Kristi. It was no surprise that she is touring with Clairo because they both have a soft 90's-alternative sound in their music. The crowd roared as Bea took the stage with her two bandmates, playing hits like "Dance with Me," "If You Want To," and "She Plays Bass." Since the band produces soft and somewhat-emo music, their stage presence relayed accurately as they kept a calm demeanor throughout their set.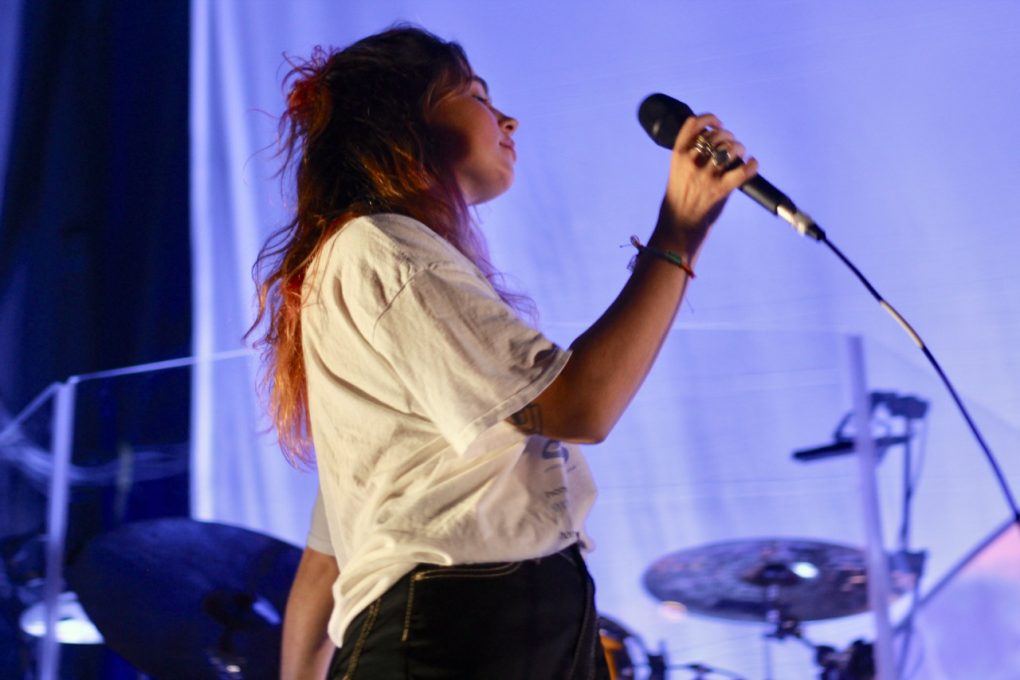 Finally, it was Clairo's turn to take the stage and you could literally feel the energy of the crowd buzzing from wall to wall. When she finally graced us with her presence on stage, the venue shook and the screams seemed to never end. My heart was racing as I stood in the photo-pit, staring directly at one of my favorite female artists of all time.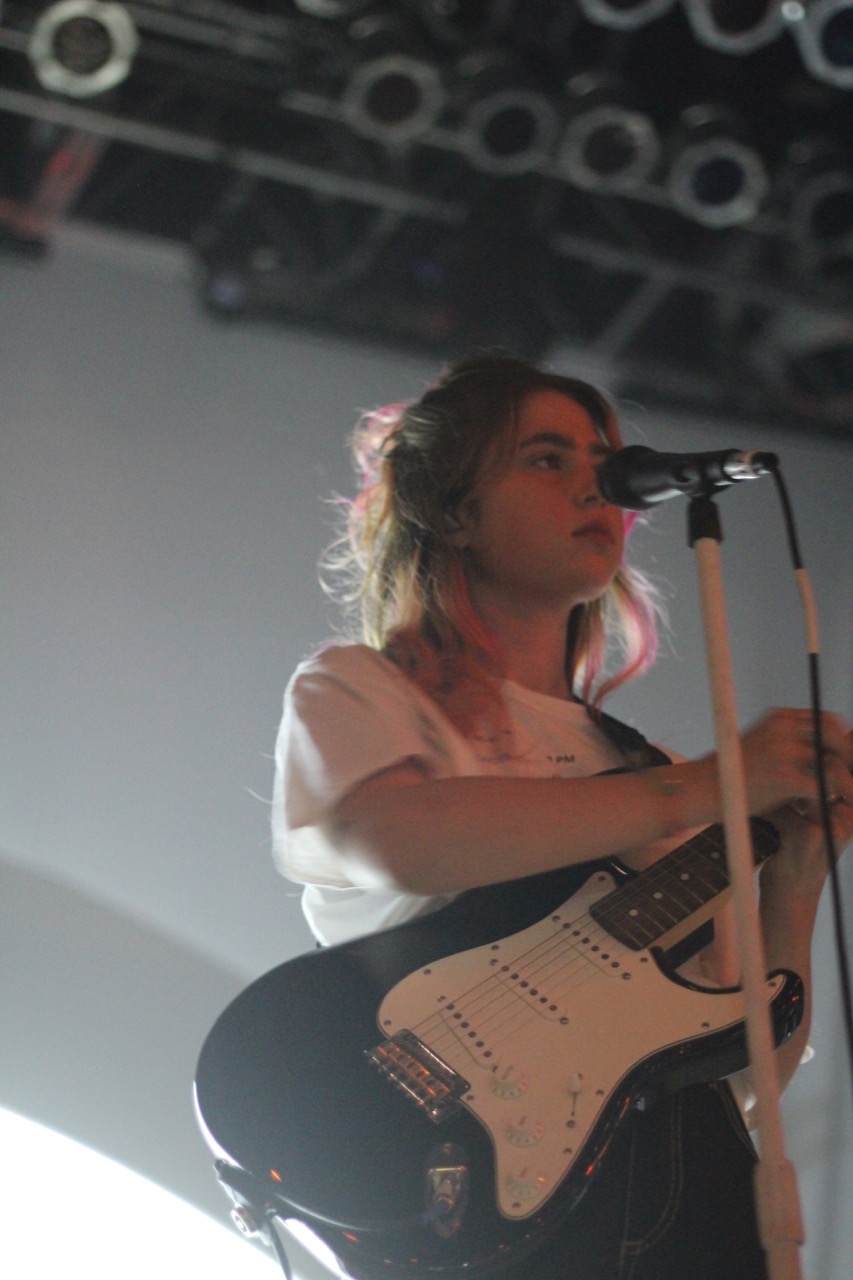 Opening with her lead song "Alewife" off her debut-album, Clairo draws the crowd in and keeps their attention focused on the music. Some artists like to open their show with a bang, but Clairo needed to start off the night with something emotional and real – and it was perfect.
Throughout the show, Clairo kept the crowd engaged, frequently taking a knee to get face-to-face with her fans in the front. Playing a mix of songs both old and new, it seemed as if the crowd knew the words to everyone. If her fans weren't dancing, they were in a trance hearing the melodic tones of the young singer's voice.
Halfway through the show, Clairo paused and did something that left me speechless. Since Cottrill's rise-to-fame started on the internet, it is only fitting that she made a joke that recently went viral on Twitter. On the count of three, she made the entire crowd sing Kylie Jenner's "Rise and Shine" meme. Even if you were unfamiliar with the meme, it left everyone laughing after hearing the audience sing the words "Rise and Shine" in a high-pitch tone.
This interaction was only the beginning of how Clairo chose to engage with the crowd that night. After singing hits like "Flaming Hot Cheeto's," "Bags," and "Sofia," she asked her band to leave as she brought out a stool and guitar to switch up the mood. Clairo told the crowd that she has only recently started doing this, but she wanted to end her shows by playing an unreleased song that she wrote on tour in Brooklyn. The song was charming and vulnerable, with lyrics stating "if timing was everything, I'd make some more time."
As she began to close the concert out with the final song off her album "I Wouldn't Ask You," the crowd sang peacefully in unison, getting ready to say goodbye to the beloved singer.
After saying goodbye, it only took about a minute of cheering from her fans until Clairo and her band came back on stage for a three-song encore. She started with her hit "4EVER," which effortlessly got the crowd dancing.
Before singing her biggest hit "Pretty Girl," Clairo decided to do something different. She asked the crowd if she could bring a few audience members on stage to host a dance party with her, and it didn't take long for everyone's eager hands to shoot up in the air. It was a really special moment to watch as Clairo brought five fans on stage, greeted them with a big hug, and danced their hearts out on stage together.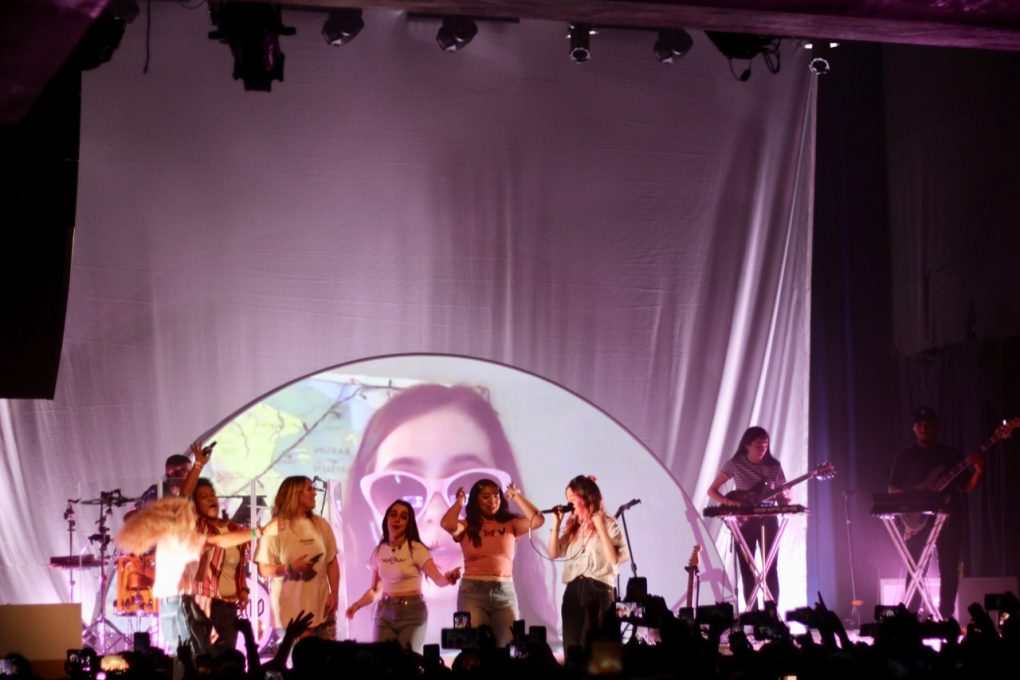 Clairo officially ended the concert with her song with Mura Masa, "I Don't Think I Can Do This Again," and allowed fans to get one final dance in before ending the night. This may have been Clairo's second time headlining a show in San Diego, but it definitely won't be her last.
Written by: Brittany Roache
Photos by: Brittany Roache