Cautious Clay pushes musical boundaries and captivates listeners at House of Blues San Diego's own Voodoo Room.
When I first discovered Cautious Clay, I was instantly drawn to the unique richness in his voice. Each song I listened to seemed to get better by the minute. Later, I learned that Cautious Clay was no ordinary alternative R&B artist. Josh Karpeh is the man behind it all. He's a singer, producer, and multi-instrumentalist who coined the name "Cautious Clay" after Muhammad Ali, aka Cassius Clay. The all-in-one musician remains unsigned and continues to defy boundaries in the name of music. Karpeh attended George Washington University to study jazz saxophone and has continued to use his classically trained background as a tool to push boundaries. By keeping a "minimalist" mindset when writing his songs, Cautious gets to explore the line between keeping his music simple and clean, while making it powerful and touching.
While many listeners are drawn to his beautiful harmonies and catchy beats, the stories he tells through his lyrics is what I believe puts him above the rest. Following the release of his first EP, Blood Type, Cautious was interviewed by Billboard Magazine, whom asked the musician what he hoped his listeners would gain from this EP. He responds, "I would like my listeners to be more intentional with their time and the people they hang out with. Make sure you're surrounding yourself with people who are worth your time. I know that's really heady and deep, but that's what the lyrics are about." Since then, Cautious Clay has appeared on tracks with notable artists like AlunaGeorge and Hudson Mohawke, and recently linked up with electronica star, Medasin, to produce his newest single "HONEST ENOUGH."
After months of playing his songs on repeat, I felt it was only fitting to attend his concert in San Diego. The concert was hosted in the Voodoo Room at the House of Blues, and while the venue was smaller than I had anticipated, it made the experience even more intimate.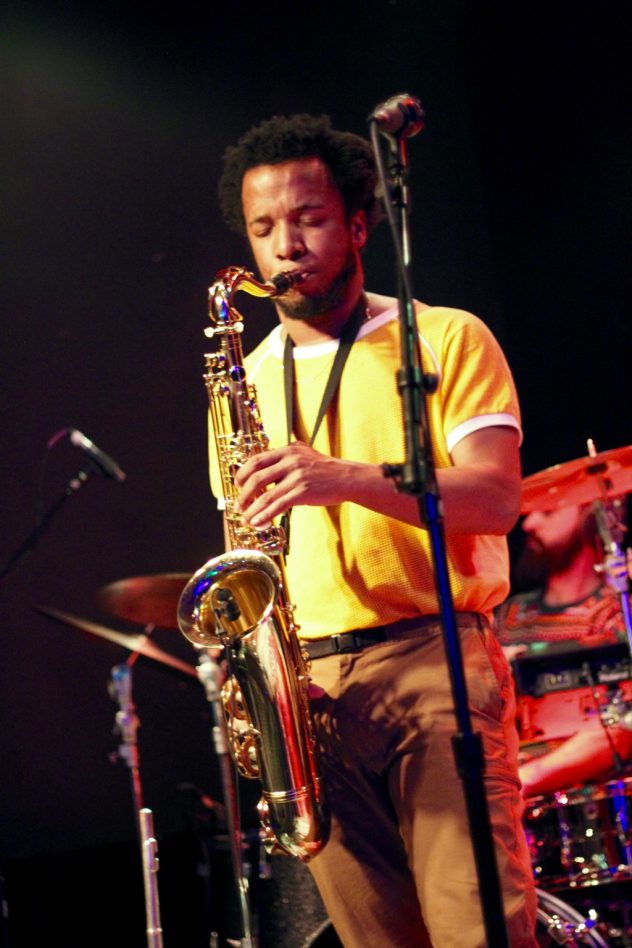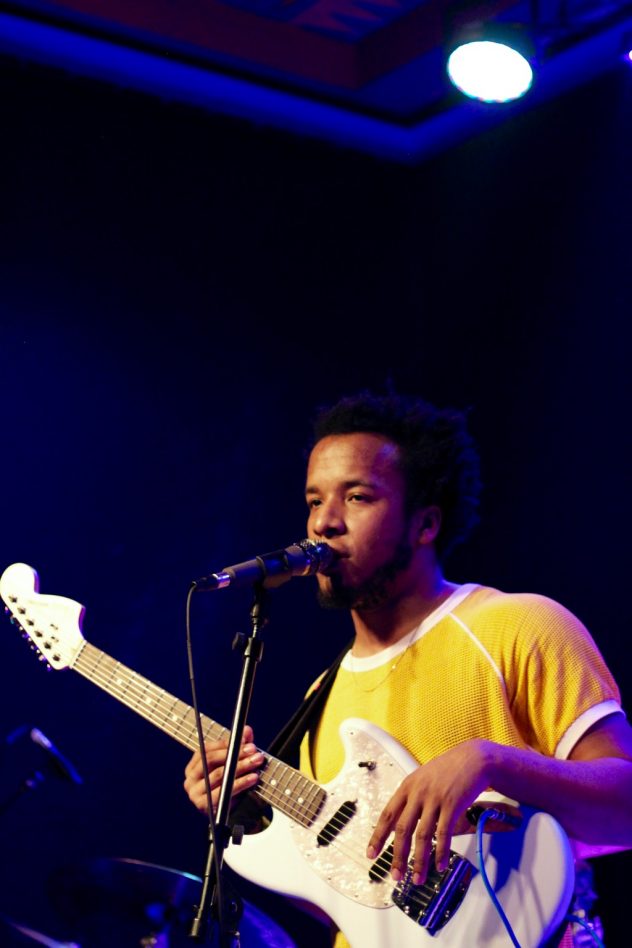 Opening with a fan favorite, "Elsewhere," I could feel my heartrate increase with only the first few chords. Cautious expressed to Billboard magazine that this song was written about his struggles with student debt and the inability to escape tough situations, which is something that many listeners are able to relate to. I was originally drawn to this song because of the unique mixture of electronica and indie production combined with his soulful harmonies, but it is the honesty behind his lyrics that kept me hitting the repeat button.
While I was personally disappointed by the energy in the crowd, Cautious Clay maintained a steady stage presence that kept me on my toes. After pulling out a saxophone and flute for songs such as "Stolen Moments" and "Call Me," I became only more captivated by his talent.
Following the performance of some of his most popular hits like "Blood Type" and "French Riviera," Karpeh asked the audience to give a round of applause to his bandmates before they momentarily left the stage. As he pulls out his acoustic guitar, the crowd starts to settle down before Cautious performed an unreleased track off his upcoming EP. The song was slow, but far from boring. This ballad was deep and emotional, and will soon touch the hearts of listeners alike.
I am eager for the release of his upcoming EP, Table of Context, as well as his return to San Diego in the future. My hopes for his next tour is that the crowd is more respectful and attentive to his stage presence because my expectations unfortunately fell short this time around. While his performance was still honest and true, I believe that an audience within his age range would be more courteous to the passion he poured out on stage. All-in-all, there are many big things in store for Cautious Clay this year. Although he's already killing it, I'd say that he is just getting started.
Review By: Brittany Roache
Photos by: Brittany Roache