Your guide to fun and memorable weekends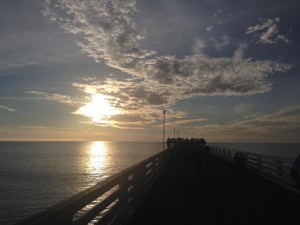 Living in a destination city has its perks! Not only are we by the beach, but also there are tons of things to do to have fun in San Diego.  On of my favorite places to go is Seaport Village. This a great place that has it all! Dining, entertainment, ocean view, shops and Ben and Jerry's ice cream! This is a great place to go with a group of friends who with a significant other. Seaport Village is conveniently located close to downtown and the beach of course!
Little Italy is one of my favorite places to go it is perfect if you want to have an Italian lunch or dinner and then have amazing dessert. One dessert place I know in Little Italy is called Extraordinary Desserts, which is to die for! They have all kinds of elaborate desserts; the only downside is because it is so good there is always a long line.
Another favorite hot spot of mine is Pacific Beach! This is a great place to go if you want to have fun but are under a budget. At Pacific Beach there are always people giving out wrist bands that allow people to get in free into bars as well as coupons for free shots! Not only does Pacific Beach have a great nightlife, but it is also just as fun during the day.
Down by Pacific Beach there is a nice pier to walk around and nice restaurants. One of the great things about this beach is its dog friendly so you can even bring your dogs with you while you soak up the sun.
La Jolla Village is another great place to go. This is more of a tourist destination, where they have tons of shops, great restaurants and site seeing! This is a perfect place to go out to dinner with a group of friends or go on a nice romantic date! One of the desserts places to try is Krafty Crepes, this is a great place to get a delicious savory crepe after dinner.