When people hear "the face of KCR," they might think of KCR's logo or the events KCR takes part in or puts on. But, members of KCR, some who have been around for years, probably think of General Manager Matt Hoffman and Programming Director Anthony Reclusado as the face of the organization. Members of KCR for nearly four years now, the roommates have held their management positions for half of that time and have greatly contributed to the radio station. I caught up with Matt and Anthony before their graduation for the last Behind the Mic of the spring semester. 
The pair made their debut on KCR in spring 2014 with "Delay of Game," a show they have had on-air up to their final days as seniors. Anthony told me that during the fall semester of 2013, they contributed to "Aztec Circle," a group sports show on KCR, because the two joined halfway through the semester and weren't given their own time on-air.
Since beginning "Delay of Game," Anthony explained that they have localized their sports coverage to San Diego. Listeners would have heard nearly an hour of Padres, Chargers, Gulls and Aztecs coverage every week. Matt described a headline segment, "Quick Shots," that concluded each show. During this short period, Matt and Anthony would bring up national sports headlines and break them down, giving their opinions.
Prior to the move, each show began with the Chargers, with Aztec Football quickly following. Game recaps, injury reports and other player news all made up the usual discussions.
"We shoot for quality and consistency — that's why the show is still here seven semesters later," Matt explained. Anthony added that dedication made their show stand out, with Matt giving an example of a basketball ticket giveaway they conducted on-air a few years ago, requiring the two to wake up at 4 a.m. to stand in line for the tickets.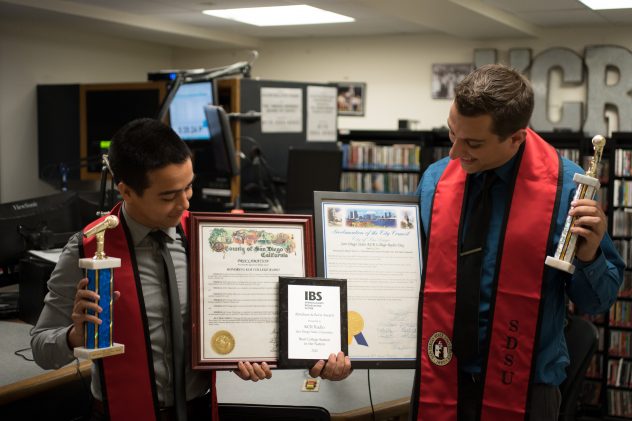 Matt has served as General Manager of KCR for two years, and prior to that (as a sophomore) he was Program Director. According to Matt, he spent the summer between management positions renovating the KCR studio. He collaborated with iHeartMedia to construct the current studio, which has professional equipment and safer furniture. "It all helps with the professionalism," Anthony added.
The following summer, Matt worked to open a second studio: the production studio in the basement of EBA.
The culture of KCR has totally changed since their freshman year, according to both Anthony and Matt. "As soon as that studio changed, everything else changed," added Anthony.
"It's a lot bigger than it probably has ever been," said Matt, referencing the sheer size of KCR's current membership.
Matt described how amazing it is to see members of KCR, past and present, earn internships and obtain positions in the media industry, noting that KCR was the starting point for many. Getting people interested in radio has been one of Matt's responsibilities. He mentioned current Production Director at KCR, Jack Sellas, as an example. Jack became an active member, obtained a management position and is now looking at radio as a potential career.
"KCR will always be a part of my life," said Anthony.
Matt currently works as a news assistant at KPBS, where he also covers on-air stories. Additionally, Matt is a writer and producer for the morning shows at NBC 7 San Diego. After his upcoming graduation in May, Matt plans on working full-time at NBC.
Anthony has worked with Matt as Program Director for two years. During his senior year, Anthony served as Sports Editor for The Daily Aztec. He currently interns at FOX 5 San Diego, and will move back to the Bay Area after graduation to continue his media career. 
Featured Image: Matt Hoffman and Anthony Reclusado are preparing for their graduation in May and departure from KCR. Photo by Amir Badeanlo.