Hey hi hello!
First of all, I hope everyone had a wicked (but safe) Halloween! Whether you were out roaming the streets of state, having your make-up melt in crowded house parties or even going all bat-shit crazy (like I did) at any one of the many raves that happened this past weekend, Halloween is definitely one of SDSU's favorite time to be out and about. To me, Halloweekend is more than just free candy and partying. It's the chance for you to put on an alter ego, masquerade as your favorite character or simply parade around as someone other than yourself. So, regardless if you were a basic animal (read: cat or bunny) or the best worst-looking zombie on the block, props to you!
This week's Aztecs of SDSU features the brave souls that decided to wear their costume to class on Friday, Halloween itself. It wasn't hard spotting these people, naturally they were the ones who weren't dressed up as exhausted, overworked SDSU students. Check them out!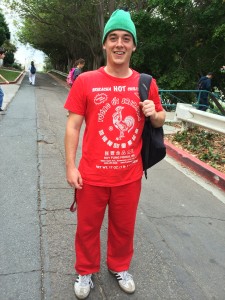 Mike Johnston – journalism junior
He is: SRIRACHA!!!
Origin: Bought the shirt from Wal-Mart for about $13. The sweatpants were about two aisles down from the shirt. As for the green hat, he was walking to 7/11 one night for a beverage and on his way his ears were freezing. He bought the hat for the walk back. "The bountiful joys of 7/11 and Wal-Mart are sublime."
"I decided to dress up as Sriracha because I myself love Sriracha. LOVE. I put it on everything. Chicken, hot dogs, sushi, oatmeal, I even put it on my Cheerios once. And I knew that I wasn't alone; proven while walking down the streets and getting a similar amount of approvals as my roommate, dressed as Jesus."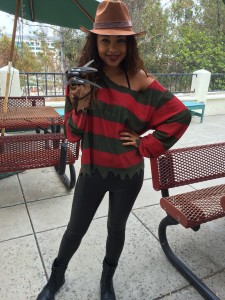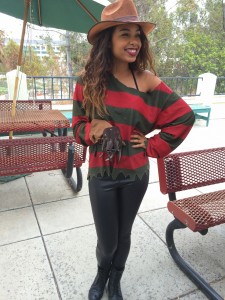 Brianna Staples – television, film and new media and communications senior
She is: Freddy Krueger
Origin: Bought it at Spirit Halloween a couple of years ago.
"I didn't want to be the typical sexy animal this year. I wanted to be something fierce."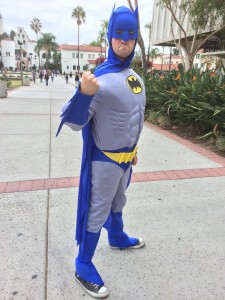 Robby Sanders Good – communications junior with an international studies minor
He is: Batman from the 60s
Origin: Bought on eBay with friends originally for his 21st birthday. They went drunk-Batman bowling.
"I chose the 1960s Batman because that's what I grew up watching. Batman is different compared to the rest of the superheroes; he has no powers but he compensates for that in every way to the point that he has been known to strategically take down anyone including Superman. He's inspiring, interesting, misunderstood and a classic."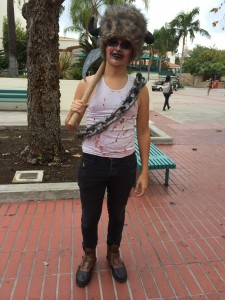 S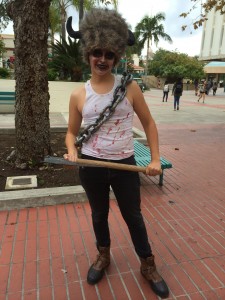 tevan Marquez – communications junior
He is: Some random slasher
Origin: My own creation
"I chose this because it was an interesting take on a slasher costume, as well as horrifying to some."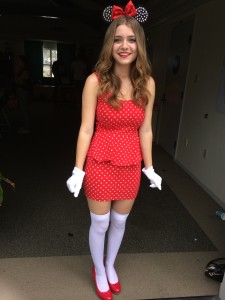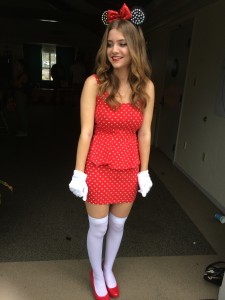 Mirna Farhat – international business junior
She is: Minnie Mouse
Origin: A really easy DIY costume
"I chose it because it was simple and the theme at where I work was Disney! Nothing says Disney more than Minnie Mouse."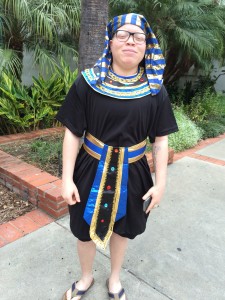 Aiden Flowers – communications senior with a minor in social work
She is: Egyptian Pharaoh
Origin: Party City
"I bought it because I really love Egyptians. I love the history and all of it. I'm representing something that was of royalty and of high regard and excellence. History is life, and Egyptian history to me is life."

Tyler Gray – journalism and media studies with a public relations emphasis junior
He is: Fred Jones
Origin: Put the entire costume together by digging through some old clothes in his wardrobe. Sweater given to him by grandmother, a shirt from work, and some bright blue skinny jeans bought in the 10th grade. The only pieces he bought were the wig and the red scarf, from Party City.
"I chose this costume because a few lads and I decided we needed a standout costume so we could get into parties easily and our group had the magical number of 5, so the idea was born. The mystery machine was assembled the night of and we totally winged it. We all weirdly looked like our characters so we took it and ran." (Mirna Farhat a.k.a Minnie Mouse is also Velma Dinkley!)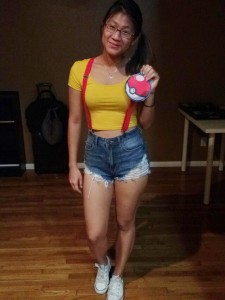 I had a lot of fun with the theme this week and I hope every one did with their own costumes too! As for myself, I was Misty from Pokemon because she was definitely the stubborn tomboy that I looked up to while growing up. The costume was supposed to be really easy, but who knew waiting till an hour before to frantically search Mission Valley for a yellow crop top would be so hard. Red suspenders and Pokeball were from Hot Topic to complete my costume.
Till next week!
Aztecs of SDSU is a biweekly series featuring the many faces of San Diego State students based on a different theme. Tweet me at @willnotshutup for theme ideas or if you want to be featured. Any love/hatemail is also welcome, and I feed on constructive criticism so tweet at me!