Presented by Media Arts Center San Diego
Amidst the post-Super Tuesday barrage of media coverage, the San Diego Latino Film Festival provides another chance to learn about ourselves and what issues are prevalent in society. It also sets a location for both our community and people around the world to gather, confer, enjoy, and educate.
Whether you're a Latinx cinephile or just the average homegrown San Diegan, there is something for you to see.
From March 12 to the 22 San Diego will be hosting one of the most popular Latinx film festivals in the world. Held at AMC 18 Fashion Valley and Digital Gym CINEMA in North Park, the 27th annual event once began as another local student film competition called Cine Estudiantil. Decades since it has blossomed to an inclusive all out focus and celebration of the arts.
The political climate surrounding immigration and the borderland towns, such as San Diego, has provided a need for positive and representative tales to be told. Festival founder and Executive Director Ethan van Thillo said, "the proliferation of authentic Latino perspectives is more meaningful now than ever, and the 27th edition of the SDLFF is committed to giving filmmakers a platform to accomplish this."
One of the specific ways of achieving this mission van Thillo and his team have done is bringing back the "Migrant Voices Film Competition." Co-presented by the San Diego Union-Tribune, this competition allows representative and authentic stories to be told to a wide audience. Varying filmmakers with similar identities conceptualize different ways of telling their life stories. Here, viewers will be given an opportunity to educate themselves on all of the people effected by the issues at hand.
SDLFF will also host a Chicano Film Retrospective, tons of showcases including SOMOS LGBTQ co-presented by San Diego Pride, over 75 filmmakers and celebrities and that's not even the half of it.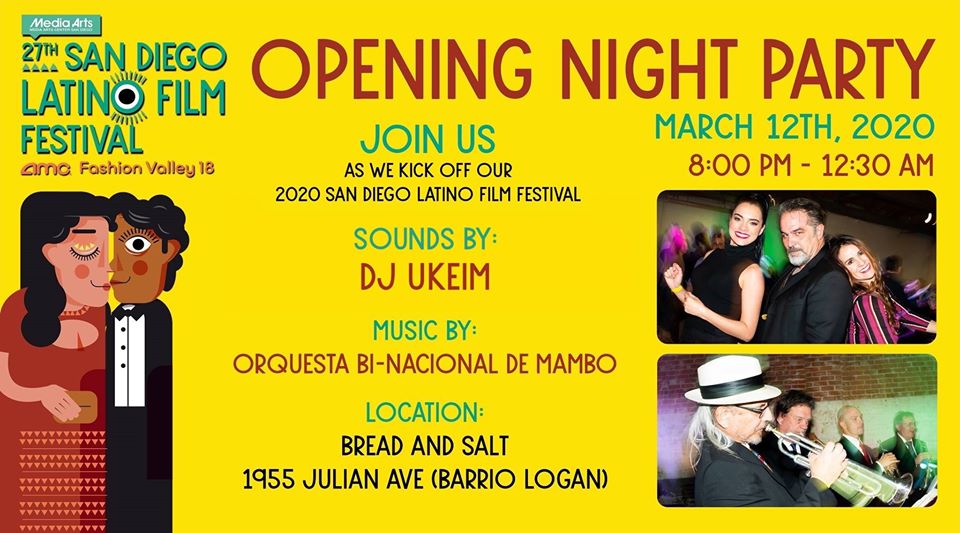 The opening night party on March 12th is from 8-12:30 AM at Bread and Salt in Barrio Logan. Come enjoy some live music from Orquesta Bi-Nacional de Mambo.
Sonido Latino is a free concert series hosted at the Fashion Valley Mall River Plaza featuring local talent. Every evening from 5 to 8:30 some local artists will be serenading festival goers.
Sabor Latino is a local food, beer and wine festival featuring some of the best food and drink from the most talented chefs and respected breweries and wineries on both sides of our San Diego-Tijuana border. On March 14th from 1 to 5 at Fashion Valley Mall's River Plaza you can get your wine and dine on.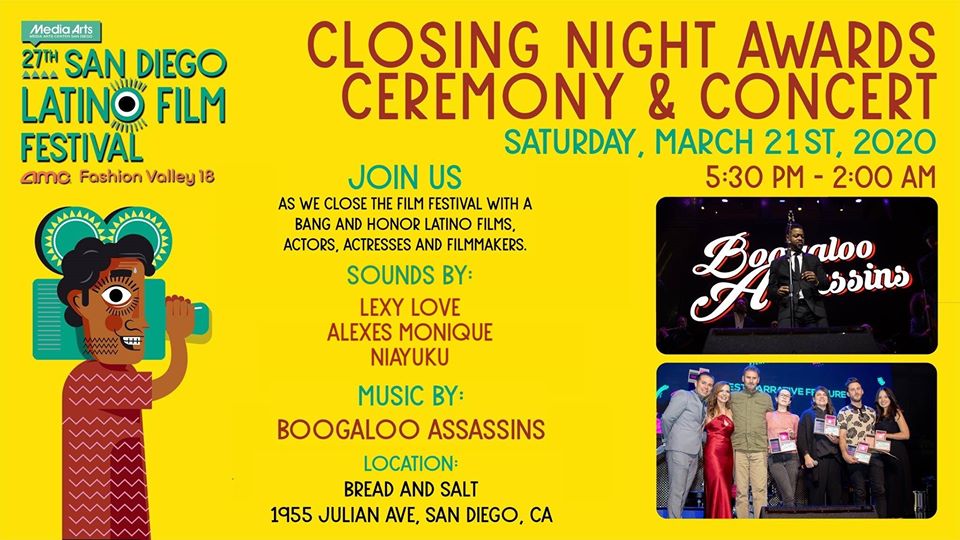 Finally the festival will close out with an epic awards ceremony and concert at Bread and Salt featuring music from Boogaloo Assassins. Here, filmmakers will be recognized, the event will be celebrated as a whole, and festival goers and participants will have a chance to mingle amongst one another.
All additional information can be found at the SDLFF 2020 website. Go enjoy some quality cinema and meet someone new!
Written by: Alexis Camel