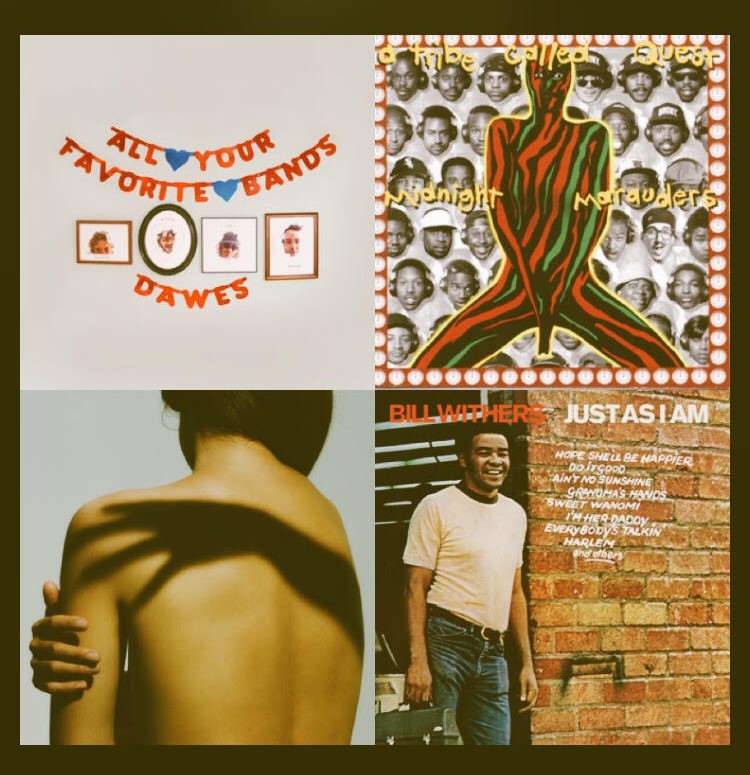 There's no arguing that humanity unveils its worst behavior in the fall. Folks high on sugary limited edition lattes peck around Halloween pop-up shops in search for overpriced weird stuff (like this adult toilet mask), grade schoolers greedily formulate their holiday wish-lists as soon as they see a leaf fall, and professors begin rolling out midterms like Scantrons are free. But aside from all the evil, the season's beauty always prevails with amber-hued landscapes, temperate weather and cinnamon-scented things. And when you're taking a nature walk (do people really do those?) or snorting your favorite candle, you're going to need some fitting music to listen to. Below is a warm, eclectic handful of tracks for your autumn mixtape (which just sounds cooler than "fall playlist," so roll with it).
Dawes — Things Happen
A lot of hate comes with liking folk rock these days, and there's no doubt in anyone's mind that Mumford & Sons' mainstream twang has something to do with the genre's general stigma. But lying beneath the deafening Top 40 assortment are some less popular (and better) acts that know when to set the banjo down. Sure, one may argue that Dawes' "Things Happen" is folk rock for people who don't actually like folk rock, but chances are, those people have been traumatized since 2012, when The Lumineers' earworm-y "Ho Hey" was overplayed and inescapable. Between the chorus' robust electric guitar and Taylor Goldsmith's thoughts that can resonate with every soul ("I don't know what else you wanted me to say to you/Things happen, that's all they ever do") "Things Happen" is warm, anthemic rock at its best.
A Tribe Called Quest — Electric Relaxation
Everyone has their own reason for liking this song. Maybe it reminds you of laughing over The Wayans Bros. back in '95 (it was the sitcom's theme song, after all), or because Phife Dawg and Q-Tip's flow is laid over a jazzy beat that's impossible to stay still to. Heck, maybe you're just really into the smooth way Q-Tip says 'Teflon' in the second verse. All things considered, there's simply a hundred reasons to keep A Tribe Called Quest's "Electric Relaxation" on replay. Hailing from their 1993 album, Midnight Marauders, this unabashedly seductive alt-hip hop single is, as one Genius contributor summarizes, "about chillaxing with a lady and trying to get her in a freaky mood." 'Nuff said.
Wet — Deadwater
More of a sensory experience than pop song, "Deadwater" is the finest offering from Wet's calm and emotive debut album, Don't You. The indietronica group's roster is small — members are Kelly Zutrau (vocals), Joe Valle (drums) and Marty Sulkow (guitar) — but their sound is anything but two-dimensional. "Deadwater" comprises prominent electronic drum beats with the in-and-out fading of smooth guitar riffs that will leave you thinking of Sade's 2000 release, "By Your Side."
Bill Withers — Ain't No Sunshine
The melancholy groove of Bill Withers' 45-year-old track may sound like it belongs to today's R&B scene, but its seeming familiarity is proof that the Rock and Roll Hall of Famer's influence on soul music is everlasting. Earning Withers a Grammy for Best R&B Song in 1972, along with a place on Rolling Stone's list of the 500 Greatest Songs of All Time, "Ain't No Sunshine" is a classic tune that you and your aging relatives will want to snap to on Thanksgiving Day. Oh, and of course, Withers' lungs deserve their own recognition — how many times can one man say "I know, I know, I know," without taking a single breath?
Dido — Thank You
Suckers for '90s pop possibly already have this chart-topper in their music libraries, but this article should serve to remind everyone else how much of a quality hit "Thank You" really is. Characteristically, the tune is a sentimental ballad about love and appreciation ("I want to thank you for giving me the best day of my life/Oh just to be with you is having the best day of my life), but Dido's serene voice — backed by the easy-going patter of hand drums — effortlessly outmaneuvers this song's potential to be mawkish.
Candles — Daughter
It's been quite some time since Daughter self-released their second EP, His Young Heart, but the four-track gem is what landed the indie rock band a deal with Glassnote Records in the year that followed. Daughter's trademark lyricism has defined them from the start, and "Candles" is an example of Elena Tonra's storytelling genius. Haunting and vulnerably explicit, don't be surprised to find yourself covered in goosebumps after this song's five minutes are over.
Frank Ocean — Pink + White
If a song from Blonde isn't on this list, does the list even exist? Probably not. But with all SEO-obligations aside, "Pink + White" is background music for those lackadaisical weekends consisting of little physical activity. It's a song for staring at orange sunsets or dated childhood photographs; it's a song for feeling up, down and whatever, something like a contemporary "(Sittin' On) The Dock Of The Bay" by the legendary Otis Redding. Well, maybe not quite, because according to the internet, "Pink + White" is a song about vaginas and cocaine, but that's the cool thing about art — it's completely subjective, so don't worry if you didn't get that metaphor the first (or nineteenth) time around. Regardless of how you interpret the lyrics, it's impossible to ignore how clean the whole track sounds, compliments of soft percussion, chirping birds, and Ocean's harmonies with a little-known artist named Beyoncé.
Coldplay — Strawberry Swing
Coldplay's evolution from alternative rock to blatant pop has betrayed their veteran fans who refuse to listen to anything beyond the band's well-received fourth album, Viva la Vida (or Death and All His Friends, if you're that one CP enthusiast). Their stubbornness is warranted, since not a single bit of the British act's newer material is comparable to the 2008 record. And though Coldplay has always explored Deep Stuff like love, life and death, there's something beautifully nostalgic about Viva la Vida that makes older fans tear up. Just like the album's other string and bass heavy tracks, "Strawberry Swing" is a masterpiece best heard at a high volume, and best felt in fresh air.
Billy Joel — She's Always A Woman
Taking the spot as this list's most organically-produced tune, Billy Joel's "She's Always A Woman" is easy on the ears and fluttery on the chest. The song provides valuable insight to how the independent, 'modern' woman of the '70s was perceived to be; however, Joel's lyrics are timeless. Nearly forty years later, the opening verse "She can kill with a smile, she can wound with her eyes," accurately represents the fierceness of today's autonomous women, and it's Joel's honest charm that makes this soft rock classic so likeable.
Miguel — Leaves
The music industry is rife with artists moaning about California, and it only takes a millisecond to think of a handful of Golden State-related songs that Miguel has featured on his most recent record, Wildheart. Unfortunately, between the overt sexiness of "the valley" and hackneyed lyrics of "Hollywood Dreams," the R&B crooner didn't seem to bring new, striking material to the table — at least not within the album's first thirty-something minutes. But a bit longer of a listen leads to "leaves," which, for obvious reasons, is fitting for this playlist. More importantly, Miguel sings about California, seasons, heartbreak, and Hiroshima without any of it sounding contrived. In "leaves," both vocals and the lead guitar riff are quiet and then suddenly climactic, and if you're dealing with a bad breakup this fall, this really is the perfect song to hate life to.
---
A playlist of these songs can be found on Spotify here.