Beloved Actor Willie Garson has passed from pancreatic cancer at the age of 57 on September 21, 2021. A spokesperson for HBO/HBO max has confirmed to USA Today.
The statement reads, "Willie Garson was in life, as on-screen, a devoted friend and a bright light for everyone in his universe; he created one of the most beloved characters from the HBO pantheon and was a member of our family for nearly 25 years. We are deeply saddened to learn of his passing and extend our sincere condolences to his family and loved ones."

Garson's gay talent character Stanford Blatch was a fan favorite throughout all six seasons of the hit HBO show "Sex and the City" which ran from 1998 to 2004. Earlier this summer, Garson was seen with colleague Sarah Jessica Parker filming the reboot for "Sex and the City" "And Just Like That."

Lawyer Miranda Hobbes in the show shared, "We all loved him and adored working with him. He was endlessly funny on-screen and in real life. He was a source of light, friendship, and show business lore. He was a consummate professional – always." Mario Cantone shared a snapshot of the two from the show's original run with the caption, "I couldn't have had a more brilliant TV partner, I'm devastated and just overwhelmed with sadness. Taken away from all of us way soon. You were a gift from the gods. Rest my sweet friend. I love you."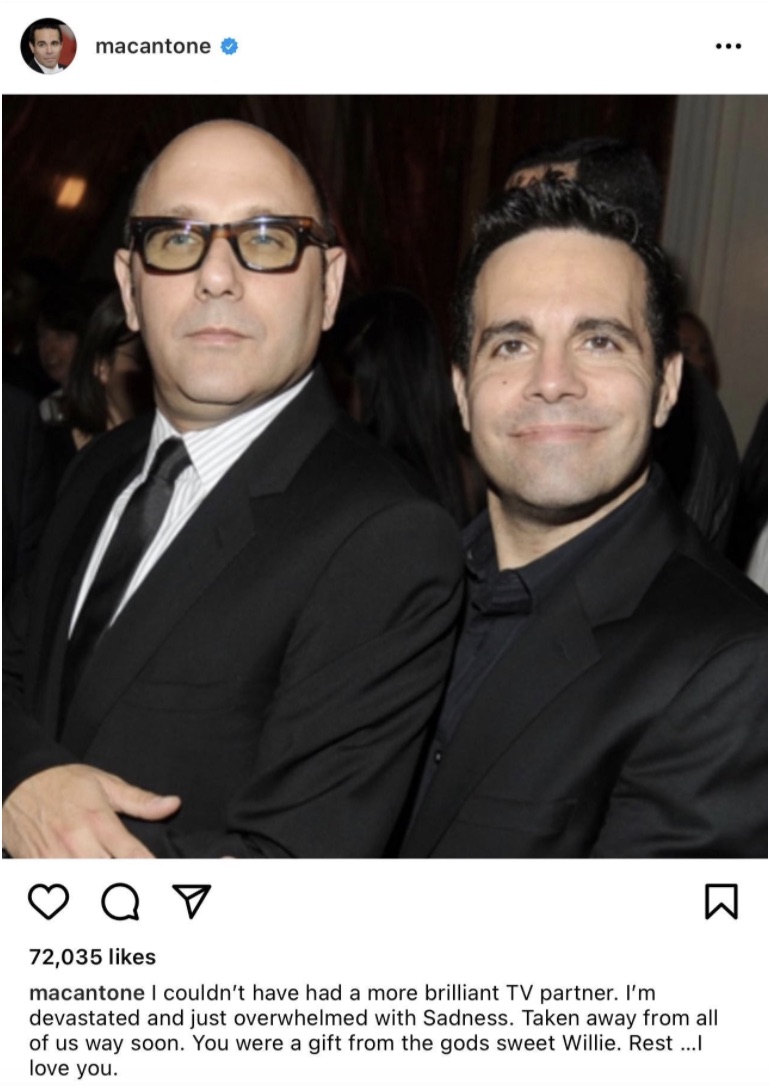 In addition to Sex and the City, Garson had over 150 credits on his resume. Including the successful USA Network show "White Collar." Garson starred in for all six seasons, running from 2009 – 2014 along with co-stars Matt Bomer, Hilarie Burton, Tim Dekay, and Tiffani Theisen.

Hilarie Burton, who played Insurance investigator Sara Ellis on White Collar shared an emotional post on Instagram paying tribute to not only her co-star but dear friend off-screen.

She got a tattoo of one of Garson's beloved catchphrases before his death. "He would pay you the biggest compliment in the world. Tell you that you were the smartest or prettiest or most talented or that your book/show.recipe/charity, etc. mattered and was valuable. And right as you'd blush, he'd temper it with 'alright calm down!'; and the laughter. He'd stop you before you could rebuff the compliment."
Burton shared a picture of a letter Garson wrote to Burton and her husband, Jeffery Dean Morgan, following their 2019 marriage. He used the phrase while describing his wedding present: A first edition copy of 'Grapes of Wrath' Burton said Garson was a "pivotal player in my life," and she promised to her his memoir published in honor of Garson and his family "I will see it through."

White Collar castmate Matt Bomer also shared a tribute sharing a photo of both of them on Instagram with the caption "I love you forever Willie Garson. Rest in peace my friend."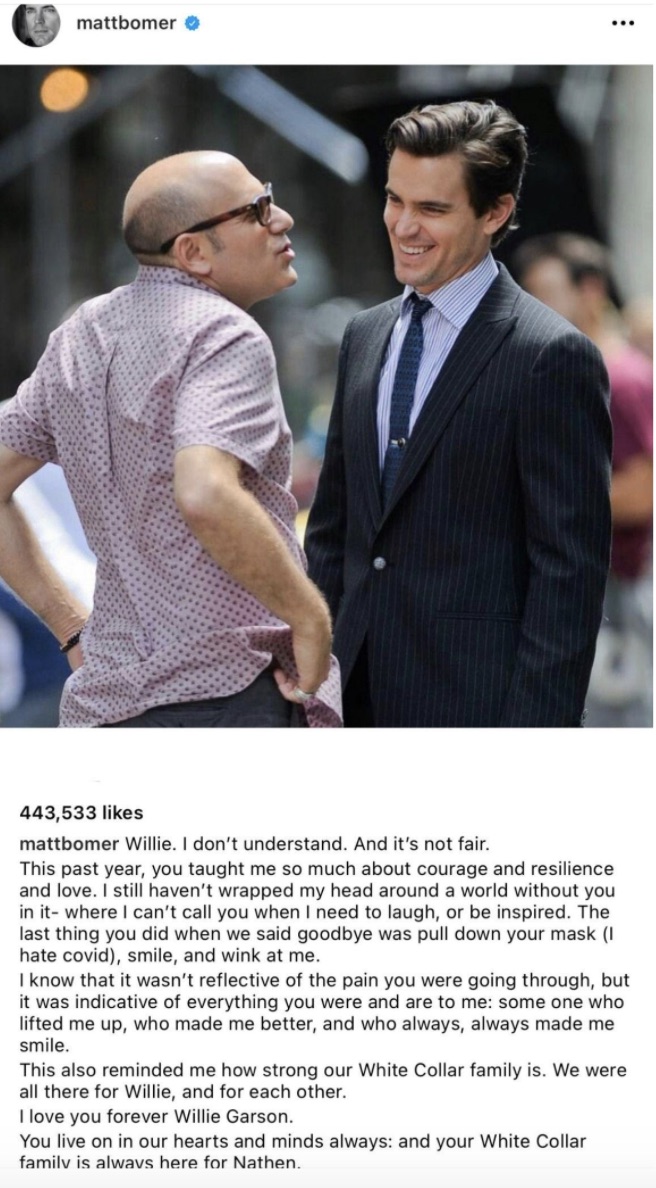 Garson is survived by his son Nathan Garson who did his own tribute to his father. Sharing a picture on Instagram of his father staring at the ocean with the caption, "I love you so much papa. Rest in Peace and I'm so glad you got to share all your adventures with me and were able to accomplish so much. I'm so proud of you. I will always love you, but I think it's time for you to go on an adventure of your own." He continued, "You'll always be with me. Love you more than you will ever know and I'm glad you can be at peace now."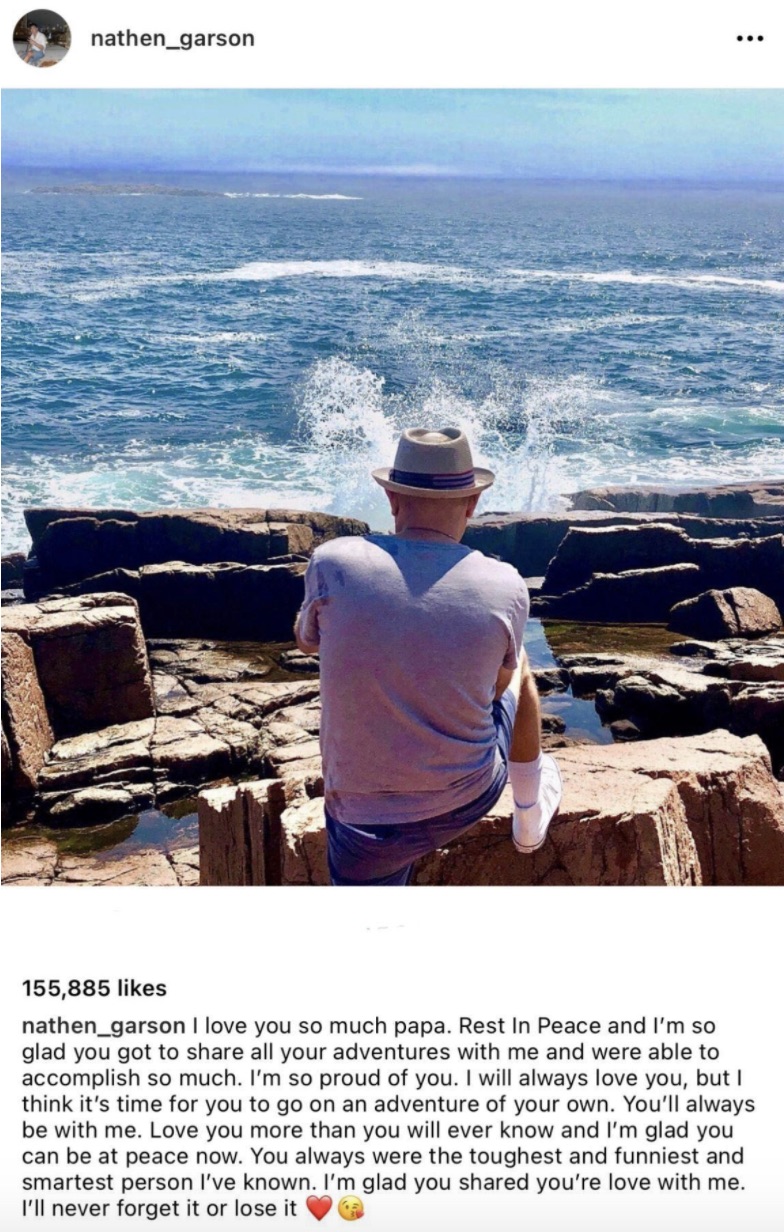 You can celebrate the talented actor's life by streaming some of the shows he starred in like, "Sex and the City" on HBO Max and White Collar on Hulu.

Who is your favorite character that Garson played throughout his career? Let me know by sharing your thoughts with me on social media @MikeStarkCA on Twitter and Instagram.

Written By: Mike Stark | @MikeStarkCA