It's no surprise to anyone that this past week has been nothing short of stressful and emotional, for everyone. Whether it be because of the recent political news, to ongoing civil rights movements, to something as simple and common as midterms, it's been quite the ride for everyone.
So, with that said, here's a three step guide to how I've gotten through the week, in hopes that it'll lift your spirits and help you get through yours:
Make a playlist (Or five):
I have a tendency to make playlists based on what I'm feeling. Going out for a run or a good workout? Definitely have a playlist lined up to get me pumped, ranging from Fall Out Boy to Eminem. A little mellow on a rainy day? Nothing but jazzy tunes with Michael Buble and some good old Frank Sinatra. Lately, I've been needing a bit more of a positive boost of motivation and patriotism due to how our politics have been, and the Hamilton soundtrack never fails to get my day started.
(Disclaimer: I definitely try and rap along with the song, but it's not exactly easy following in Lin-Manuel Miranda's shoes.)
Bingewatch your favorite show:
Thank god for Netflix, right? You can't go wrong with any form of a Netflix original series, from the recent hit, Stranger Things, to documentary series like Making a Murderer. Personally, I've been experimenting with series that have been around for awhile, like Mad Men and Scandal. But easy go to's are always the Marvel Netflix series. (Here's a hint: if you want to watch the "properly" the order is how the shows were released. Daredevil's season one and two, then Jessica Jones, and finally Luke Cage. Definitely try to catch up before Iron Fist and The Defenders premieres sometime within the next couple of years.)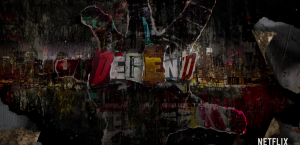 (Source: Netflix via thumbs.mia.com)
And lastly, pick up something new.
Whether it be a new hobby/show/music choice or food, picking up something new is always a refreshing way to mix things up in your life. Because I work at a bookstore, treating myself to a new book is always a mood booster. Despite the continuously growing stacks of books in my room that I haven't touched yet. Here's the latest book I've added to my collection and currently reading through. Sam Maggs novel, "The Fangirl's 'Guide to the Galaxy" is not only 100% appropriate to have and own in my personal library, but it's relatively accurate in the writing and just cute and empowering overall.
(Source: Amazon.com)
And with that, I hope these little tips and tricks help you get through the week. Whether it be because of midterms or something much greater, let's all just do our best to help each other grow and succeed in life as much as possible.
Also, if you found this topic interesting, or at the very least appreciate my subtle nerdy references and puns, I host an evening talk show on Saturdays at 7 PM PST! The show is called "Bingeworthy", and I cohost the show with my friend Kentaro Kawasaki. Come tune in Saturday nights and follow us on Facebook/Instagram/Twitter/Soundcloud at @KCRBingeworthy.
(Header image source: Nickelodeon via Spongebob Squarepants)