For this week's "New Music Friday," we have new releases from Justin Bieber, Billie Eilish, Sam Smith, and more.
Happy Friday and Valentine's Day! We made it to the end of another week, phew. Welcome to the first "New Music Friday" where every week, I update you on what's fresh out for music. This week we had a ton of new music drop from all of your favorite artists, so let's dive right in.
Justin Bieber – Changes
Justin Bieber's highly anticipated new album Changes is finally here and a great valentines day present for all. A lot of changes have happened since the singer's previous album Purpose, which was released in 2015. He is now married to Hailey Baldwin, which has been an inspiration to the album. The singer also informed us of his battle with Lyme Disease. Justin stopped by the MTV studios and told MTV's Sway Calloway the vibe of the album is "super R&B influenced" and features include Quavo, Post Malone, Clever, Lil Dicky, Travis Scott, and Khelani. You can stream Changes everywhere on music streaming platforms. You can also check out the tour schedule on his website to find if Justin is coming to a city near you. Good news local beliebers, Justin will be stopping in San Diego on May 26, 2020.
Billie Eilish – "No Time To Die"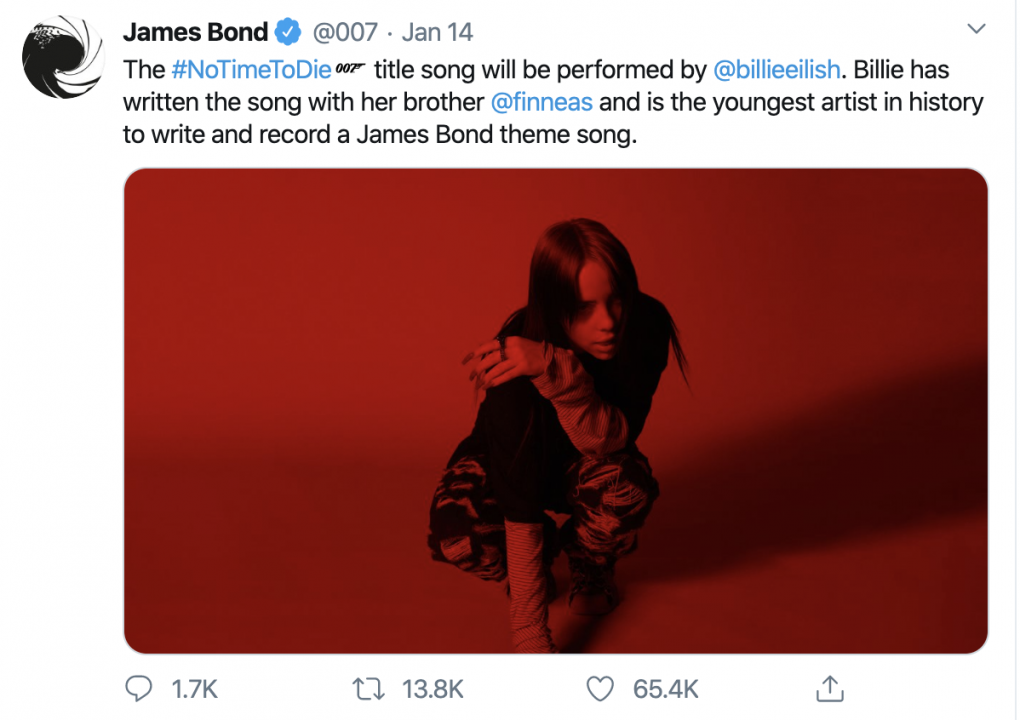 The theme song for the upcoming 007 James Bond movie is here. Billie Eilish with "No Time To Die." Billie and brother Finneas co-write the song which was announced on the official James Bond 007 Twitter account back on January 14, 2020. Eilish, 18, is the youngest person to write and perform the 007 theme song. Other past theme song performers of the franchise include Tina Turner, Wings, Madonna, Adele, and Sam Smith. You can stream "No Time To Die" on music streaming platforms such as Spotify, Apple Music, Amazon Music, YouTube Music, and more. The movie No Time To Die comes out on April 10, 2020.
Sam Smith – "To Die For"
This week, New Music Friday falls on Valentine's Day and, of course, I had to throw in a song that fits perfectly for all my single friends out there. Sam Smith's "To Die For." Sam expressed to Rolling Stone, "…This is for all the lonely hearts out there on another Valentine's Day." Thank you, Sam Smith, I truly needed this one. In addition to releasing "To Die For" Sam also informed us that his third studio album is set for release on May 1, 2020. Pre-orders for the album begin February 15, 2020.
More New Music from February 14
Other songs that dropped today include:
What new music are you listening to or have on repeat this weekend? Let me know by hitting me up on Twitter or Instagram @mikestarkca See you next week for another New Music Friday update.
Written By: Mike Stark