Hey friends! Happy HUMP DAY, and I hope you guys are gearing up for this upcoming Halloween Weekend – or more importantly midterms – but Halloween only comes once a year!  This week on neighborhood jams I am featuring San Diego's newest and upcoming band – Watashi Wa Dance Party! Now their story is pretty awesome…
Watashi Wa Dance Party consists of three members: triple-threat member, AJ Peacox on guitar, bass, and vocals; Erich Beckmann on drums and vocals; and lastly one of our very own Aztecs, Wade Morris on guitar and vocals. WWDP started off with Peacox and Bechmann reincarnating their studio project ErichFuckingPeacox!!! but they felt like they needed that extra something. Morris was approached by the two after he played a final show with his band The Skank Agents in 2014. Side note: I have loved The Skank Agents for a few years now, and I'll admit, I was sad when I realized they were parting and playing their final show at Soma… even if it was over a year ago. But hearing the sounds of WWDP makes it all better mainly because of their energy and motivation. A major influence for these guys is the fact that pop punk music is slowly dying, and WWDP wants to revive it by combining their love for music and for Japanese punk influences such as, Dustbox, Weinners, and Dradnats.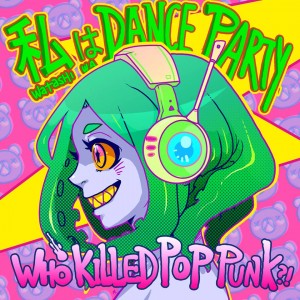 You can listen to Watashi Wa Dance Party's 4-song EP titled, Who Killed Pop Punk?! on their Bandcamp website here! My favorite song of the four was definitely Happy Endings, and it's all due to their incredibly high energy.  The beginning guitar and bass riffs match perfectly, and Bechmann's enthusiasm on the drums really ties this song into a perfect package.  These guys are bringing pop punk back on the radar and are just killin' it. Their very first show ever was at Ché Café Collective in La Jolla earlier this month.
Keep an eye out for these guys – they have a lot cooking for the future. They are gearing up to start recording a full length album later this month, and they are even shooting some music videos. Give them a like on their Facebook and help support local bands by donating to their Bandcamp website.
I can't wait to see you guys live, and good luck!
Photo Credit: Wade Morris and Maiko Z