Why is the rum always gone?
Well, this year, Disneyland has the answer. The famous theme park is celebrating the 50th anniversary of the "Pirates of the Caribbean" ride and Disney fans are tipsy with excitement. Originally debuted on March 18, 1967, fans from all over the world have lined up to see the classic attraction.
For the longest time, however, the attraction was known as an older ride that had little to no modifications (in terms of appearance, I'm sure regular maintenance is practiced for safety reasons), until 2006. The 2006 modifications included the addition of Captain Jack Sparrow hidden throughout the ride, as well as the later addition of Davy Jones. Jones was replaced by Blackbeard in 2011 to coincide with the ongoing movie series.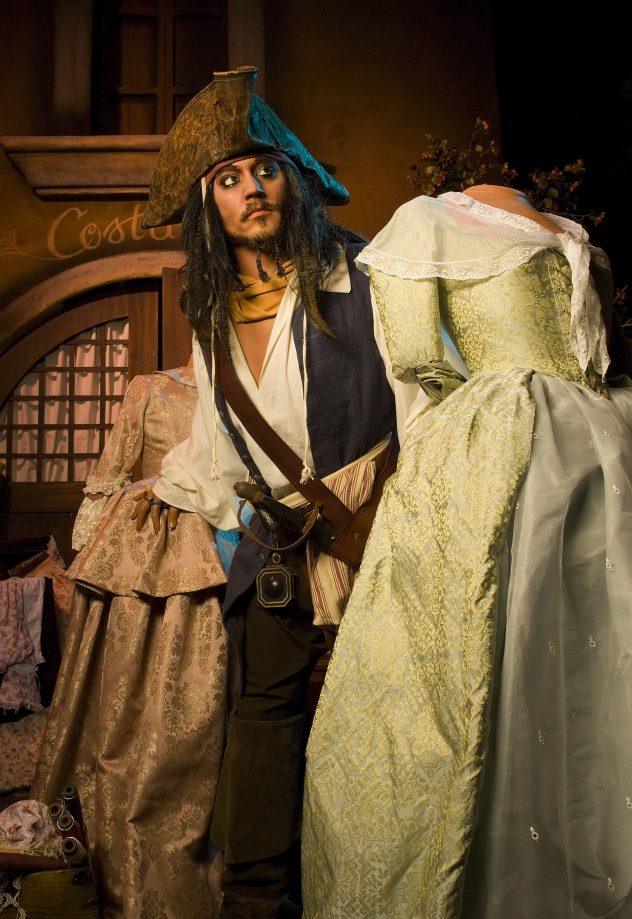 (Source: Disney via PoTC Wikia)
According to the Disneyparks Blog, the park will be turning the upswinging, jazzy New Orleans Square into a rapscallion filled party fit for pirates of all ages. Pirate themed meals and beverages can be found in various restaurants around the square, such as Cafe Orleans, French Market Restaurant, Mint Julep Bar and Royal Street Veranda. The Blue Bayou Restaurant, located within the "Pirates of the Caribbean" ride, is of course participating in the festivities as well.
(Source: Disney via Daveland Blog)
Some of these scurvy-defying meals include the highly anticipated gold-dusted churros (not coated with actual gold, but with lemon sugar bits), Lost Treasure beignets, Jolly Roger Punch and a Caribbean Breakfast Burrito comprised of scrambled eggs, Andouille sausage, ride, black beans, cheddar cheese and sweet potatoes. Each restaurant in the square has meals fit for a pirate.
(Source: Heather Sievers via DisneyFoodBlog)
Adding to the celebration is the entertainment provided by the Bootstrappers and Lucky the Pirate, as well appearances from the famous Captain Jack Sparrow himself. Whether or not that will be Johnny Depp, however, is yet to be confirmed. I highly doubt it, as much as I'd like that to happen.
Lastly, Disneyland will naturally be providing pirate themed booty and merchandise for all ages. To cater to rising trend of pin trading, Disney will be selling special 50th anniversary pins that visitors can purchase or trade with the employees throughout the park. There will also be special t-shirts for sale in honor of the anniversary, as well as the regular "Pirates of the Caribbean" movie and ride merchandise.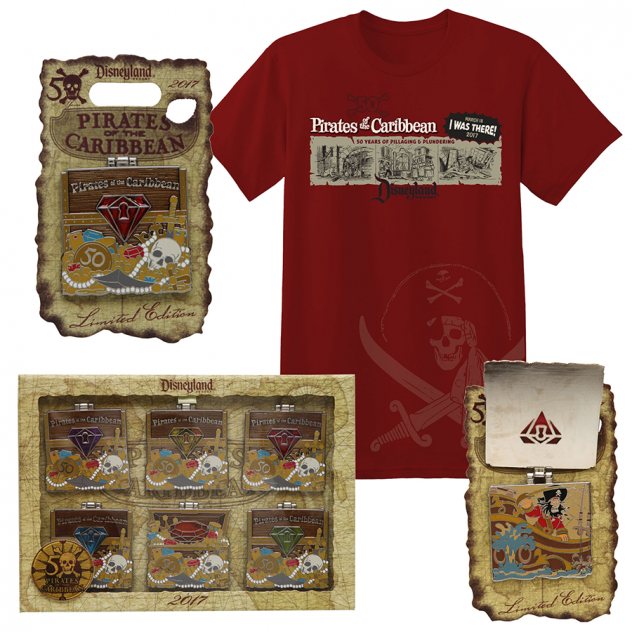 (Source: Disney via Disneyparks)
Will you be joining in on all the swash-buckling, pirate fun? Be weary though, these celebrations, attractions, merchandise and meals are all for a limited time only.
Featured Image: Disney via D23.