If you wanna go to the movies more often but are worried about price, movie subscription services like AMC Stubs A-list and Regal Unlimited might be the answer for you.
Going to the movies is one of my favorite past times. Sitting down in a dark room with all the lights dimmed down and seeing a huge movie blasted onto a large screen is a great experience. So why is it that such an awesome experience is not being appreciated nearly as much as it should be. Many people will come up with different theories like the rising dominance of streaming content in the entertainment industry and Hollywood's need to push more remakes, sequels, and reboots onto screens but I think the reason people don't go to the movies is because of the price.
Listen, going to the movies is great, but it's hella expensive son! Especially for us college students, going to the movies is tough. The good news is that movie theater chains have started to notice that this could be a problem and have set to do something about it. I understand consumers may be under the impression that movie theaters should simply lower admission prices to raise the amount of profit made by a growing number of attendees, but that's not quite how this works.
You see, part of the reason movie ticket prices are as high as they are is because most of the revenue made from movie tickets truthfully does not go to the theaters showing the movies, it goes to the studios. The whole point of tracking box office amounts is to see how much profit a movie generated while it is being shown in theaters. The little revenue theaters do make from tickets has to pay for rent, utilities, etc. so most of the funding comes from the concessions stands and even the trailers and commercials you see before a movie. You probably didn't even realize that theaters get paid to show trailers before movies but they do. Anyways, chains have been able to introduce new subscription services to their customers to encourage higher attendance. Although the goal is likely for audiences to come back and buy more concessions, it does provide a helpful solution for audience goers who want to go to the movies often but can't afford it. So today, I would like to discuss the choices you have currently for movie subscription services and provide reviews of some of the programs I have been a part of and offer my opinions on those I have not.
So just to clarify, no, MoviePass and Sinemia are no longer in business and unfortunately are no longer options for subscription programs.
The movie subscription service that really got everyone talking was MoviePass. When the mass found out about it, they offered a standard 2D movie a day for $9.99/month. This is insane given that the average movie ticket, at least in California, is about $14. Many consumers flocked to MoviePass for unlimited movies but found themselves in disappointment when as predicted, the business was unable to keep itself afloat.
The reason for this is that every time someone used the pass to buy a ticket, the company, MoviePass, had to pay the movie theater in question for the ticket. So instead of having you pay for the ticket, they did. It really didn't work out as well as they wanted and I think the reason for this was because an independent company was providing the movies for the consumers. This is a very expensive business model and unless they have other sources of income to draw from, it is also unsustainable. MoviePass did try to get money from other sources as they started "MoviePass Ventures" an independent film distributor that they can take funds from, but they only released three films under the title and one of them was the critical and financial disaster Gotti starring John Travolta. MoviePass eventually forced users to pay surcharges when seeing some popular movies that would go as high as $5-6. This was problematic for users too because it defeated the purpose of having the pass in the first place. Eventually, everyone jumped ship and after several attempts to re-design their model, they eventually closed down in September of this year.
Another company called Sinemia offered a similar deal which allowed 3 movies a month that could be in any format (2D, 3D, IMAX, etc.) for around $9.99/month as well (price changed over time and depending on location). They weren't as popular as MoviePass though and they never reached the same level of success MoviePass did. They faced many similar issues with money and also added many more charges to compensate for losses. They also went through several re-designs as well which angered many customers. In fact, it became such an issue that a class-action lawsuit was eventually filed against Sinemia claiming the service was a "bait-and-switch scheme" since they had users pay a $1.80 fee for every movie they saw. Sinemia, too, closed its service in April of this year.
The truth is I never used either of these services. They seemed too "sketchy" for me and I thought the deals were too good to be true. My suspicions were confirmed when both companies closed their doors due to the complications they faced. I also wanted a service that offered access to 3D and IMAX movies while still offering more than 3 movies a month (average a month for me is 4 or 5). I think in order for this system to work movie theater chains themselves need to be the ones offering these services. Since they are the exhibitors of the movies, they are able to make up for the losses that come with paying for movie tickets by increased sales in concessions. And that's exactly what seemed to happen. Today there are three movie theater chains that have fully launched their own movie subscription services for consumers. Those are AMC Stubs A-List, Regal Unlimited, and Cinemark Movie Club.
AMC Stubs A-List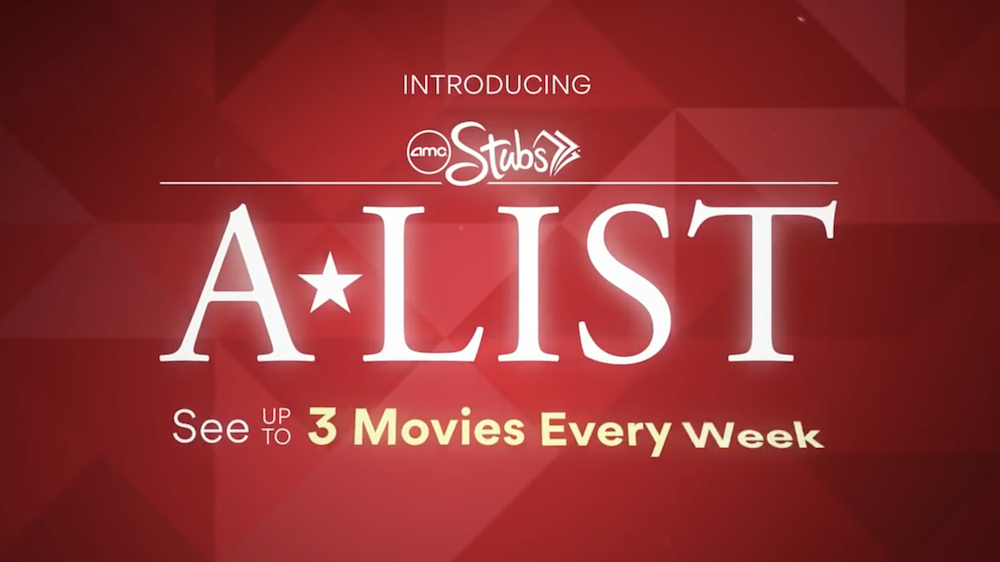 I think to this day AMC Stubs A-List is one of the greatest things to happen to movie lovers. This service offers 3 movies a week at $23.99/month (every territory is different). These movies can be in any format (2D, 3D, IMAX, Dolby Cinema, etc.) and in any AMC theater in the country. Knowing that an IMAX ticket at AMC Mission Valley 20 is about $20 or so, this is a great deal! You can see two IMAX movies and already save over $20 a month on movies. You can also book free reservations online, yes, you book reservations instead of purchase your tickets it's incredible! I still am a subscriber for AMC Stubs A-List and have been for over a year. I think I've saved almost $200 on movies because of how many movies I've seen while a member of the program. And what's great is that for a moviegoer like me, I have never felt 3 movies a week was too little for me. I now see every movie I can in either IMAX (2D/3D), Dolby Cinema, or Digital 3D simply because I can go for free. Having used this service for so long though, it does get tiring to go to the same two theaters in San Diego over and over again (Mission Valley and Fashion Valley). It is also tough because the other theaters I want to go to are difficult to get to because of their distance. It is also worth noting that you can only book 3 movies at a time. This can be a burden sometimes because I will sometimes go crazy and book multiple movies I want to see in advance just so I can guarantee I have a good seat. I think this is a great program for regular moviegoers, especially if they are college students.
In San Diego this program has done wonders for me because I can book a quick reservation, save my seat, hop on the trolley and my seat will be waiting for me when I arrive. It's a really great service and one I recommend. With that being said, there is a 3-month commitment with the program meaning you have to be a part of the service for 3 months before canceling. Furthermore, once you cancel you are not allowed to join back for 6 months. There is also no family plan yet to share the account with someone else, which I know can be a burden for some people. I have a buddy who wanted to share an account with his brother but was disappointed he couldn't. I believe AMC is working out a system in which multiple people can share an account and save on movies but this has not happened yet.
My only legitimate complaint I have with the program is that it is designed for mainly solo moviegoers, and although I will usually be a solo moviegoer while using the service, it can be tough sometimes to get a friend to save a seat next to me and book a showing the same time I do hopefully without having anyone book the seat you want at the same time. I recently had trouble booking my tickets for Star Wars: The Rise of Skywalker with my friend and had to refund the seat I had chosen since the ones next to me were taken before my friend could get to it. That meant I had to cancel the reservation and get a new seat which was inconvenient. I have not had any other issues than that though. It is a fantastic service that I have been really lucky to be able to have in my life. But what about if you do not live near any AMC Theaters, what do you do then?
Regal Unlimited
Regal Unlimited is a program that could cater to fans who want to go to more than 3 movies a week. This one offers unlimited movies all month for $23.99/month (depending on the area). So yes, if you wanted to do nothing but go to the movies all day every day, you can with Regal Unlimited. There are some catches to this program to keep in mind though.
1) If you want to see a movie in 3D, IMAX, or whatever premium format Regal offers, you have to pay for the surcharge for that format and
2) If you want to book tickets online, there is a $0.50 online convenience fee you have to pay. These are admittedly lame for someone who likes booking tickets in advance and for premium showings too, but it has also allowed me to practice restraint. I now tend to save Regal Unlimited for more standard showings of smaller films for this reason.
With that being said, depending on where you live waiting to book your tickets until you get to the theater may not be an issue. The two regal theaters I like to go to in San Diego are Regal Parkway Plaza and Edwards Mira Mesa (Horton Plaza closed down which makes me sad). They both have IMAX auditoriums so every once in a while I'll indulge myself and go to one of their IMAX showings. Parkway Plaza, in particular, is not usually very crowded so getting a ticket at the theater on the day of is simply no problem. I've only had one crowded showing at that theater and it has been for Rambo: Last Blood. To this day I've still never booked a ticket with Regal Unlimited on the app and have always opted to do it at the theater, but it is lame especially in today's day and age to have this burden placed onto you. I just get lucky that many people don't go to the Regal I like to go to and again buying a ticket at the theater is no problem.
This service is not as good a deal as AMC's, but is still pretty good if you live closer to more Regal locations. The other thing worth noting is that there is a minimum 12-month commitment you must abide by if you choose to sign up, this meaning that once you sign up you're locked in for a whole year. This initially made me think twice before I signed up as well as I wasn't sure if I could stick with the program for the whole year. The good news is that unlike AMC, this service offers an annual payment option. That way it is no longer a burden to be paying monthly for the program since all 12 months have been taken care of. I personally paid for the service for the year and I'm already getting my money's worth. Further, if you do choose to book tickets with Regal 1) it must be done through the app on your smartphone and 2) you are allowed 3 movies at a time, like with A-List.
I've already gone into how I'm not a fan of the fees the program has, but I am enjoying the service so far. You also get 10% off concessions which, although I don't usually take advantage of it because I try to avoid buying movie theater snacks if possible, is nice whenever I do choose to buy some popcorn or candy. I've only had the service for a few months, since August of this year, but I have not had any issues with the app or otherwise, which is great. It is also a luxury knowing that I have more options for theaters when going to the movies than just Regal and AMC locations. With that being said though, I am not sure I will continue to use Regal Unlimited once the year has passed. I was satisfied with AMC A-List before signing up for Regal and the only reason I did was so I could have more options for movie-going locations. If you don't mind the fees though and you live closer to Regal locations, this is still a good deal that I would recommend.
Cinemark Movie Club

I don't know too much about Cinemark Movie Club, but I don't think this service would be ideal for consumers who are looking to see a movie often. In San Diego, we don't have any Cinemark locations near us which creates more inconvenience. The service is $9.99/month (depending on location) and you get only one standard 2D movie a month and 20% off concessions. The good thing is that if you don't use one of your movies a certain month it does roll over into the next month, I just don't see this really serving many moviegoers who want to go to more than 3 movies a month for cheap. If you just want an add on to an already existing movie subscription service and live near a Cinemark, I guess this will work for you. When I return back home to San Pedro, I live near one or two Cinemark locations, but I never was inclined to sign up for the service since it really is lacking in what it offers. But maybe if you want to see one movie a month and live near a Cinemark this will work for you.
So what's the best option for you?
This will depend on what you are looking for and where you live. In my opinion, AMC offers the best deal but Regal has been good too. Cinemark's club seems too limited for my liking but may work for other consumers. You're really just going to have to take a look at every service and wonder what will work best for you and your bank account. Hopefully, I've been able to provide as much information as I could on each service and insight with my experiences with them. If you have any more questions about the services in question, I will be linking the info pages to each service down below for more information.
Written by: Christian Scognamillo
For more info on AMC Stubs A-List:
https://www.amctheatres.com/amcstubs/alist
For more info on Regal Unlimited:
https://www.regmovies.com/static/en/us/unlimited
For more info on Cinemark Movie Club:
https://www.cinemark.com/movieclub
Follow me on letterboxd:
https://letterboxd.com/christianscogs/
Follow me on Twitter:
https://twitter.com/christianscogs