On Mar. 13, around 2 p.m. Pacific Time a global Facebook outage impacted users of the social network platform as well as other Facebook-owned social media such as Instagram and WhatsApp.
SDSU students directly felt the impact of the nearly 24 hour Facebook outage, which is being heralded as one of the largest interruptions the platforms have ever had. Users of the platform reported various problems ranging from being unable to load the site at all, to simply not having the ability to post, like or comment on any material. Justine Saldana, a Senior and Interdisciplinary Studies major, stated she had found out about the dilemma through other social media friends.
"I became aware Facebook and Instagram weren't working when my fellow food Instagram friends mentioned it early on in our group chat; it was big to them because some of them get paid to post."
Alejandra Casillas, a Sophomore and Liberal Studies major, became aware of Facebook and Instagram not working while she was trying to post pictures on her social media.
"I was actually trying about 5 times to post some pictures of my day with my boyfriend. It was actually very frustrating because I didn't know and I thought there was something wrong with my phone."
Users of the network flocked to Facebook's social media rival, Twitter, to express their frustrations by using the hashtag #FacebookDown and #InstagramDown. With these tags, users tweeted out and posted memes about the outage. The tweets varied wildly in content, from offering explanations as to why the outage would have occurred, to how people need their social media and how to cope with the current state of their platforms.
Saldana elaborated upon her dependency of the platform for connections both familial and professional;
"I do depend on Facebook a lot to communicate with family and colleagues. For Instagram- not so much. Only because Facebook is a better platform to talk to professional connections… this interruption impacted me directly because I uploaded a picture on my food Instagram and I wanted to see what kind of feedback I was getting from my followers." 
Casillas similarly revealed her frustration on how she is very dependent on Facebook and Instagram to communicate with those closest to her
"… Sometimes it's family that I haven't seen for so long or friends as well and since I don't have their cell phone numbers I contact them by Facebook or Instagram."
While Facebook's services were offline, the company began announcing updates of their current situation via their Twitter account.
"We're aware that some people are currently having trouble accessing the Facebook family of apps. We're working to resolve the issue as soon as possible."
The Instagram Twitter account later proceeded to address its awareness of the "frustration" many users were feeling.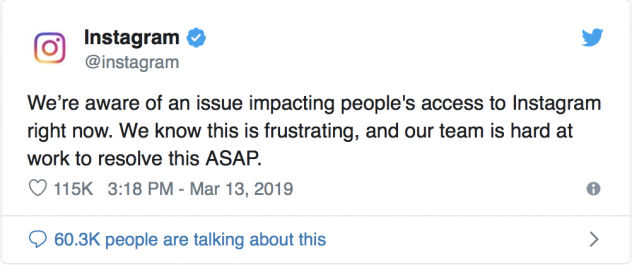 Although there were online rumors of the outage being a result of a DDoS attack ( a Distributed Denial-of-Service attack where a hacker floods a site with fake requests to overrun the sites capacity limit), it was later by Facebook that it was not a hacking situation. The company stated on Thursday, that the blame for the outages was due to a "server configuration change that triggered a cascading series of issues" Facebook services are now back online and running.
Written by: Marco Arreola