NGHTMRE x SLANDER as Gud Vibrations, Seven Lions, and The Glitch Mob took the stage at San Diego's Petco Park for The Alchemy Tour on Saturday, October 12.
I'm still so stoked that I was able to attend this show. It was very spontaneous and unexpected, which made it the best.

My story starts last summer. I went to EDC Las Vegas and saw the tail end of SLANDER, who I had never seen before. It was the prettiest end to a set I had ever seen, and I wish I had gotten there earlier to see the whole thing.
Derek Andersen and Scott Land make up the SLANDER duo, and they are based in Los Angeles. They are best known for their unique sound and electronic music subgenre "heaven trap." They play bass music, dubstep, trap, and even house music. SLANDER's live sets are filled with the craziest energy. They have many popular songs, and you can feel the emotions in each one of them. Everyone who loves electronic music knows that SLANDER will break your neck and your heart.
NGHTMRE, also known as his real name Tyler Marenyi, is a DJ and producer based in Los Angeles as well. He met the fellow producers Derek and Scott while attending Icon Collective Music Production School in LA, and they developed a close relationship. NGHTMRE began his career remixing trap and house, and then started producing bass, trap and house music. He is signed to Diplo's record label, Mad Decent, along with SLANDER.
All three of them have many collaborations. They released an EP in 2015 called "Nuclear Bonds" on Diplo's label. Later in 2016, they released a song titled "Gud Vibrations" that became very popular. It is a very feel good song, and Gud Vibrations became their collaborating tour title and new record label name. They even have a weekly hour-long Gud Vibrations Radio mix on Mixcloud. Their Gud Vibrations tours have been a growing success with sold out shows across the globe.
Back to me — I attended Hard Summer Music Festival this summer, and NGHTMRE went back to back with electronic music artist Excision. I could not miss this, so my group got there early. Both of them went extremely hard, and unexpectedly but expected, NGHTMRE brought out SLANDER as a guest. Gud Vibrations went back to back with Excision, which is absolutely iconic. Everyone in the crowd was so excited and the set was incredibly hype. After this, I could not imagine seeing over an hour of Gud Vibrations together.
I heard about The Alchemy Tour hitting San Diego when they released it to the public, but I was unsure if I should go. I was told that I needed to go, as Gud Vibrations brings their legendary "atom" stage rig with them on tour. The atom is a massive array of light beams that have three rings. They project visuals and it looks like an energy source. Their DJ stand is inside the atom.
As the weeks approached, my closest friends were buying tickets and asking me to go with them. I was trying to save my money, though, and that was my reason to not buy one.
However, on October 12, the day the tour came to San Diego, I was having second thoughts. I had just gotten over getting sick, and had just completed all of my homework. I also had just received my last paycheck in the mail. Because of this, I went to The Alchemy Tour's website and bought a ticket at 4:45 p.m. The show began at 5 p.m.
I frantically put on an outfit, drove over to my friend's house, and we took an Uber to Petco Park. We got there just in time to see a little bit of The Glitch Mob.
The stage was not inside the actual baseball stadium which I thought it was, but instead on the little baseball park behind it. It was surrounded by downtown's skyscrapers and was a very cool atmosphere.
I was not very familiar with The Glitch Mob and did not see them for very long, since I got there late. They are also a Los Angeles based trio, and their names are Justin Boreta, Ed Ma, and Joshua Mayer. They played more heavy music to get the crowd ready, and overall had a very good performance.
Up next onstage was Seven Lions. Jeff Montalvo is an American DJ, record producer, and instrumentalist from Santa Barbara, CA. I have been listening to Seven Lions for many years, and couldn't believe I got to hear some of his songs live that I had been listening to since the beginning of high school. His music is more emotional with melodic dubstep, trance, house, and drum and bass.
When his stage was set up, I could not believe it. I had seen videos of his live sets on social media with his diamond shaped visual screens in front of him, and I didn't have time to process that I was seeing that for myself.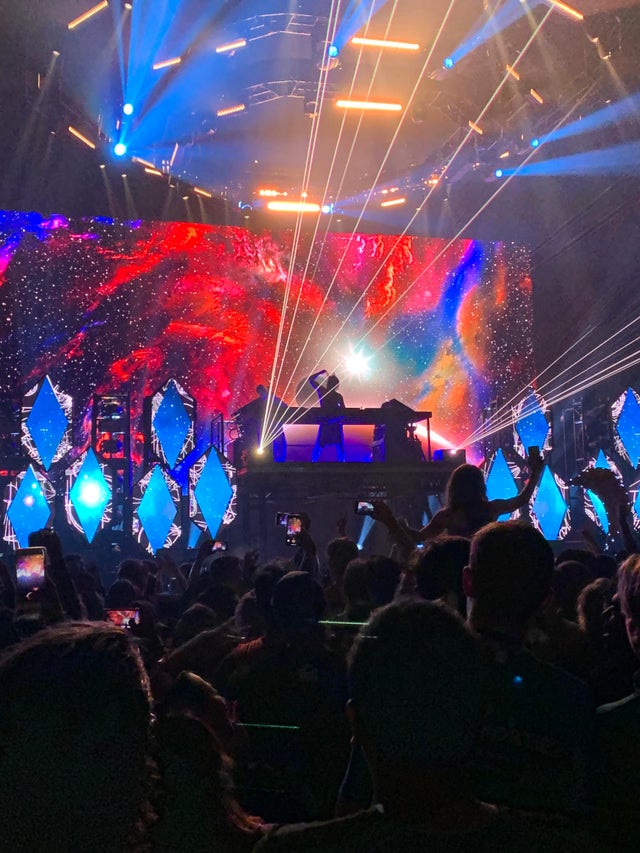 The only word I can describe Seven Lions is — beautiful. His music was very emotional and his visuals all around him were very unique. Projections of people's faces, nature, and the universe all told a story with each song. He played one of my favorite songs, "Strangers," live, which came out with his Worlds Apart EP in 2014. I used to listen to it all the time in high school and hearing it again live was awesome.
Seven Lions played more of his well-known songs that blew everyone away. He played "Ocean" which was released in 2018, featuring Jonathan Mendelsohn and Jason Ross. This song was very beautiful to see live and blue ocean water projections told a story behind him. He also played his popular song "Island" featuring Wooli, Trivecta, and Nevve. Excision always plays this during his live sets, so seeing it played by Seven Lions himself was awesome. Continuing off of this, Seven Lions played one of his recent releases "Another Me," featuring Excision, Wooli, and the singer Dylan Matthew. This set was very beautiful and I definitely want to see Seven Lions again.
Finally, it was time for Gud Vibrations. When they took the stage, everyone went crazy. You could feel the bass from the very back of the park. And then I heard Derek Andersen scream into the mic, "San Diego, are you ready?" I don't think anyone was.
The atom was already set up right after Seven Lions ended, but it was two rings instead of three because Petco Park's stage was pretty small. It was still so crazy to see it. The two rings lit up different colors with each song and all three of them were jumping inside of it.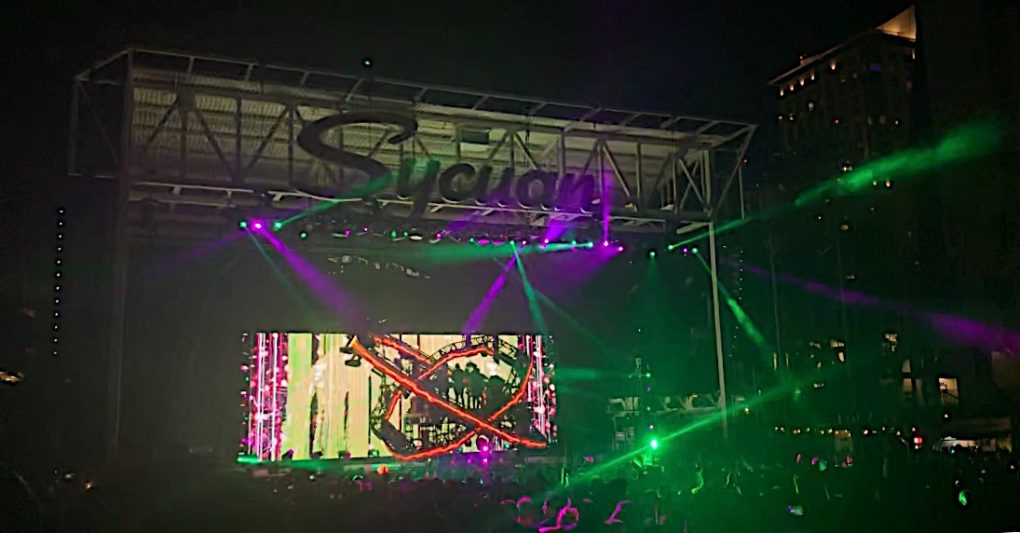 The set was so hype that people were coming outside to stand on balconies and up against windows all around the venue to watch. The energy was crazy and I've never seen anything like it. So much bass music was played. Everyone was together to celebrate these artists and their songs, and everyone knew each one of them.
Gud Vibrations went super hard most of the time, but after the second half of the set, SLANDER played their emotional hits. Before this, though, they played their classic single "Gud Vibrations" after a few songs. Singer Dylan Matthew came on stage as a guest to sing his vocals in SLANDER's song "First Time," also featuring Seven Lions and Dabin. The crowd went crazy when he came on, and it was emotional to hear him sing his part.
SLANDER also played their songs "Potions" and "Superhuman" for everyone. They also played their legendary unreleased remix of "I Fall Apart" by Post Malone. I thought that was the prettiest song. "Kneel Before Me" with Crankdat and Asking Alexandria was also played, and everyone went extremely hard for that.
NGHTMRE played his recent release called "Bruises" for us live, which had just been released on October 4. I hadn't heard it yet, but it was very cool to hear live. Then, he played his April release "REDLIGHT – VIP" which features A$AP Ferg — so hype. He also played his remix of electronic artist Alison Wonderland's song "Lost My Mind."
Long story short, Gud Vibrations definitely broke my neck and my heart. Seeing these artists together was pretty awesome and you could see how much fun they were having together on stage. Their friendship was definitely shown, and they had so much fun with the crowd. I didn't want their set to end.
This tour reminded me how much I love electronic music and seeing artists live. It's definitely special seeing your favorite artists play your favorite music right in front of you, and it is something you will remember forever. I definitely recommend seeing SLANDER, NGHTMRE, and Seven Lions live.
Written by: Alexandra Gex
Photos by: Alexandra Gex