Do you ever check the local listings for the next big movie and are stunned to find a catalog of viewing options such as standard format, 3D, IMAX, Dolby Cinema, and D-Box?
There are so many options to view movies in, where do you even start? An average consumer may be under the impression that although many of these options may provide more immersive entertainment, they also acknowledge that they are also more expensive. Today we're going to be taking a deep dive into a few premium format options that will regularly be available. I will not only go into what makes some of these formats special, but I will also go into the average additional surcharge you'll pay for each ticket and offer a review of the experience if I have been through it before.
3D
I probably do not need to get into what makes a 3D experience in a movie theater unique as more than likely you have been at some point to a 3D movie yourself. You all likely know it can be anywhere from $2-$4 extra per ticket, depending on the theater, for a 3D movie. The intention of 3D movies is to create a movie-going experience to make you feel as if you are actually a part of the movie. Essentially, once you place on a pair of glasses given to you before a presentation, you begin to notice the image may have more depth and will notice that images seem to be "popping out of the screen". The way this effect is achieved is that the projector projects two of the same moving images slightly next to each other that come together when you place the glasses on and provide a more immersive but strange effect.
The relationship people tend to have with 3D movies is generally you either love or hate them. Some people can't get enough of that theme park type of experience, but for many people, they become easily nauseous and will notice that there were not even that many effects on the screen to begin with. There was a time not too long ago where it seemed every new movie being released was in 3D, which many people really did not like. And although I liked 3D as a kid, I knew realistically it was not possible to see every movie out there in 3D. At the time though, when I did, the experience of watching a movie felt more special.
My relationship with 3D today is similar yet different. 3D is not nearly as common as it once was so not that many movies are released in the format anymore. Therefore, I really don't find myself seeing as many 3D movies as I used to. With that being said, it is fun every once in a while getting to see a 3D movie just because it is still an uncommon movie viewing format for me. However, I am glad 3D movies are not as common because the viewing experience is much more special, and I know, given the number of movies I watch now, I would probably get sick of 3D pretty quickly.
The truth is, 3D is not suitable for every movie that is released. Studios tried to place it in every movie so they could ramp in a few extra dollars which, ultimately, caused the downfall of 3D. In reality, only select movies are made for the format.
The last 3D movie I saw was Gemini Man which also had the added bonus of being in HFR (60 fps). The results were not as bad as expected but also not ideal. I think with a bigger screen and brighter projector I would have enjoyed myself more (and I still mostly did). But the small screen and shaky cam the movie implemented made many scenes of the movie distracting in the format. Some really great recent 3D flicks I watched include Ready Player One, Alita: Battle Angel, and Aquaman. These were all films intentionally designed for the 3D experience and having the bonus of seeing all these flicks in IMAX 3D, meaning a bigger screen, made the experience even more special.
Similarly, I've seen some awful 3D movies recently like Venom, Solo: A Star Wars Story, and The Mummy. These movies were trying to hastily rush the 3D format onto them so they could get a few quick bucks out of unsuspecting paying customers. I think that's the other problem I have today with 3D too; you never really know what type of movie experience you are going to get. Because of this, the consumer relationship with the format can become rocky. I think if 3D is going to have a chance to survive in the industry it needs to be shown in select films that are designed for the format. A lot of big blockbusters still look great in the format, but not every movie needs to be or should be in 3D. It seems as if Hollywood is now beginning to understand the risk that comes with showing a movie in 3D and the format is now diminishing as a result.
Even IMAX (which we will discuss soon) has decided to no longer primarily show 3D movies but rather, only do it when the quality of the presentation is good enough to justify it being presented in the format. Although I wish IMAX would play more 3D movies every once in a while, this is a smart move on their end for the sake of business. I am in the minority when it comes to 3D as I like to give it a chance but know that this is a format everyone will have a different experience with. It's really going to come down, at the end of the day, to personal preference and mainly how your body and eyes can respond to the presentation.
IMAX
IMAX 2D or 3D is usually one of my favorite ways to go see a movie. IMAX provides an experience in which the speakers are louder than normal, and the screen in question fills the entire wall of the auditorium the movie is being projected on from wall to wall and ceiling to floor. The average surcharge for an IMAX movie is going to be anywhere from $5-6. I really love seeing movies in IMAX and have been fortunate enough to see many movies I'd like to in the format because of programs like AMC A-List and Regal Unlimited (check my blog out on subscription services), however, it may be hard to know what movie you should see in IMAX and which one you can skip if you must pay for the format. Unlike 3D, any movie you see can look good in IMAX, but some movies will look better than others. This is going to be really tough to explain why so bear with me as I go through the terminology.
The first thing to note about IMAX auditoriums is that not all auditoriums are going to have the same size screen. Some IMAX screens are significantly larger than others. These bigger screens are known as "real IMAX" and they can go on average to be about 76×97 feet which is insane. The regular IMAX screens that you may come across in your local malls (and the only ones available in San Diego at the moment, unfortunately) are only about 28×58 feet and known as "Liemax" screens. The reason for this is because they are trying to advertise the same IMAX experience without letting you know which screen is the real deal and which one is not. If you want to know if your local IMAX screen is real or not, click thislink where you can look at a list of IMAX locations. If the theater is listed as 1570/D or some other variant of that, it's the real deal, just D means that it's not. You may be surprised just to find how little of these screens are actually considered true IMAX screens.

With all that being said, not every movie is necessarily going to look better on a real IMAX screen anyways. Most movies that are shown in the format are merely blown up for the screen meaning that if a movie is presented in 2.39:1 aspect ratio, you're going to get those black bars at the top and bottom of the screen as seen below. When this happens in a movie, it is known to be "letter-boxed".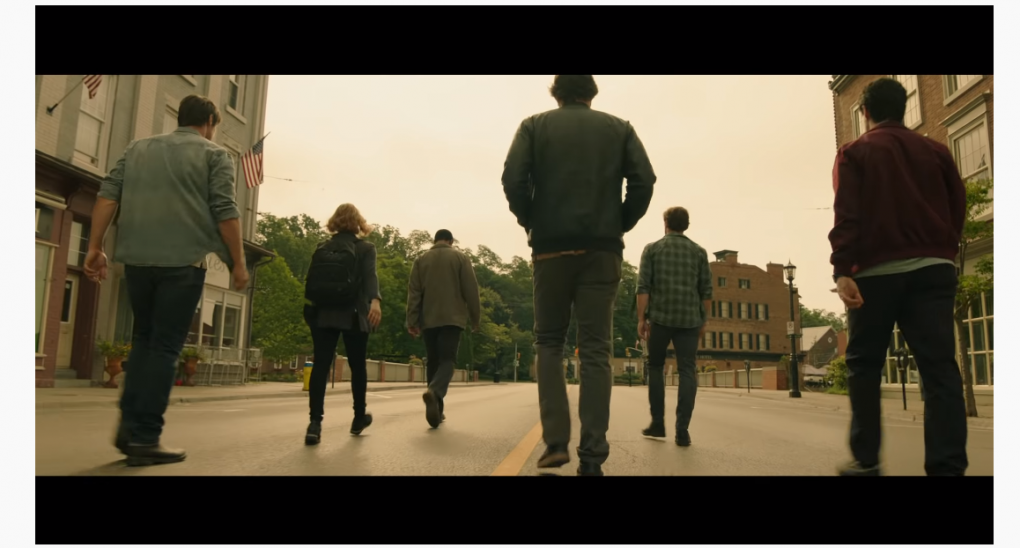 If you are limited in the movies you can see in IMAX due to money and don't know what aspect ratio a movie is presented in, here's a neat trick to try. Open up the trailer for the movie you want to see on your phone or computer. If there are black bars at the top and bottom of the screen, it's going to appear that way on an IMAX screen as well. When a movie is not "letter-boxed" and is instead being presented in 1.85:1, the full screen is going to be filled up when you watch a movie in the format. It is important to note though that some movies are "specially formatted for the IMAX experience." This means that the picture size will expand from 2.39:1 to 1.90:1. That means when you see a movie in the format you're going to have more information available to you, the viewer, on the screen. Here's a clip from Alita: Battle Angel (which was specially formatted in IMAX) so you can see what this means.
I will clarify that many times it's only going to be select scenes that are presented in this format but I still think it's fun to watch. To know if a movie is formatted for IMAX or not, check the IMAX social media profiles (Twitter, Instagram, etc). The company will let you know if a movie is specially formatted for IMAX or not and will advertise for it. On a regular "LieMax" screen, these films will fill the entire screen. However, on a real IMAX screen, a movie in the 1.90:1 aspect ratio will still not fit the entire screen.
So what will fill a real IMAX screen then? To know if you should make the trip to see a movie in a real IMAX screen, again, check the IMAX social media and see if the movie is being shot and shown in IMAX 70mm film. If it is, see it in a real IMAX theater because you are going to at least get select scenes that fill the entire screen. These films were shot on IMAX's specialty giant 70mm that specifically cater to the format and present movies in the 1.43:1 aspect ratio. This is also the reason why you might notice that the IMAX screens at science centers like Ruben H. Fleet Science Center are much larger and provide a different experience than the ones at your local malls. Those IMAX documentaries are typically presented in the 1.43:1 aspect ratio which is ideal for a real IMAX screen. It is usually rare that a Hollywood movie is shot and shown in IMAX 70mm but it does happen every once in a while in movies like Interstellar, Dunkirk, and First Man. I can give you, though, three movies to look out for that will be presented in this real IMAX format: No Time to Die, Wonder Woman 1984, and Tenet. Here's an example from Batman v. Superman: Dawn of Justice (which also used the special cameras) of what the picture now looks like.
In conclusion, is IMAX worth your time? I enjoy the format but every movie is going to be a different experience. I know I had to explain a lot of this using hard to understand film terminology, but I would recommend, if you are considering seeing a movie in IMAX, either do the test on your computer or phone to see if you notice black bars on the top and bottom of the image or check IMAX's social media to see if they will be expanding the aspect ratio for a certain movie. Do know that every movie is going to be a different experience so make sure if you're limited on the amount of IMAX movies you can watch to choose the right one. When you pick the right movie, IMAX can provide a really special and, I'd even argue, unforgettable movie-going experience.
Dolby Cinema
Dolby Cinema is a similar but different experience to IMAX. The biggest difference to note is that MOST screens you are going to find are not going to be tall like IMAX but instead super wide. There are some exceptions to this but most Dolby Cinema screens I've been to have had a wide screen instead of a tall one. Also unlike in IMAX, there are recliner seats at Dolby Cinema auditoriums. Basically, the best way I can describe the experience of watching a movie in Dolby Cinema is that you get a 4K image and reclining seats that rumble during loud scenes. The theater is also equipped with Dolby Atmos, meaning there are speakers that basically surround the entire auditorium.
It's weird going into an auditorium and looking up above your seat to notice that it has its own set of speakers. I'm not very good at explaining this since I'm not a sound engineer, but know that the goal of Dolby Atmos is to provide 3D surround sound to give the impression that sound can potentially come from every direction of the auditorium. The only reason I don't go to more movies in this format is that it is hard to get tickets to Dolby Cinema showings at the theater I like to go to (AMC Mission Valley). The surcharge is about $5 and I think it's a pretty cool experience every once in a while.
I really have not had a bad experience with a showing in Dolby Cinema and I am confident you will more than likely enjoy it too. Really just about any movie you go see in this format is going to look good so I guess if you're curious, you should check it out. The speakers are really loud, the recliners are comfortable, and the image quality is very good which makes for a very enjoyable movie-going experience. I wish there was more information I could give to you but there's not much else to say, it's pretty luxurious.
D-Box/4DX
I've never seen a movie in either of these formats but from what I understand they are very similar experiences. They both provide movie-going experiences that are complemented by moving seats and 4DX special effects (water, air, scents, etc). This has never been an ideal movie-going experience for me, even as a kid, so I never felt compelled to see a movie in this format. I also know it's very expensive to see a movie in this format as the surcharge may be as much as $8 extra which is crazy and excessive.
I think the idea of seeing a movie with extra special 4D effects is "too immersive" for me; I think the idea is too gimmicky for my liking. I can handle 3D as it provides an interesting experience every once in a while but I feel like 4DX and D-Box may take things too far for my liking. Again though, this is coming from someone who has not even had the opportunity to see a movie in this format so maybe it's okay. I don't mind going on a theme park ride which has moving seats and effects because that is the expectation I have for those experiences, but in a feature film, this is going to become distracting. I guess if that sounds like your cup of tea, have at it.
Which Premium Format is Best For You?
Everyone's preference in premium formats in movies is going to be different depending on what type of movie-going experience you are looking for. Usually, if I am going to see a movie in a premium format, I will opt to see a movie in either Dolby Cinema or IMAX because I enjoy those experiences the most. I like that Dolby Cinema offers recliner seats and 4K video quality, but I also like it when a film shown in IMAX is specially formatted for the experience allowing for more information on the screen.
If I have to recommend trying any premium format it would be IMAX and Dolby Cinema, but I would also recommend doing your own research on these formats and the movies being shown in the format to find out which one is right for you. You may want to expand your horizons and try 3D or D-Box/4DX, but just keep in mind that they may be too gimmicky for some viewers. Either way, if you're at all curious about a format you've never tried, I'd say go at least one time to try it. Even if you, at the end of the day, do not enjoy the premium format that has been provided to you, it will be something unique and out of the ordinary. And sometimes something unexpected makes for the best types of adventures.
Written by: Christian Scognamillo