Last Thursday I attended my 3rd concert in a matter of 4 days. I had been having a lot of fun, but fun can take a toll on a girl. Still, I wearily trudged to The Casbah. I was there to see PigPen Theatre Co., an indie-folk band from New York.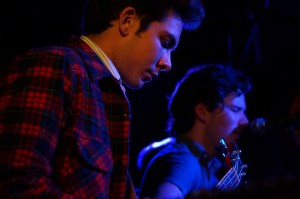 My curiosity was sparked when I saw a bunch of cute, young guys on stage. They looked similar to a one direction type of boy band but I was pleasantly surprised to learn that the The Tragic Thrills were far from that. They informed the crowd that this was their last show opening for PigPen Theatre Co. I was in for a treat. Their band included a keyboard, bass, drum, and electric and acoustic guitar.
I assume they're a local band or from somewhere near San Diego because I was standing near one of their grandmas for half the night. She seemed pretty cool. They also had a bunch of friends from high school supporting them at the show and a few groupies dancing throughout their whole set. It was nice to see a young up and coming band have such a large circle of support. So what about their music? Their music was sounded as good as they looked. They have an indie-pop feel and all their songs were very catchy.
They opened with Everyday, at first listen the song sounds very cheerful but the lyrics are melancholic. I trade pain with numbness, you betray my weakness. Because I'd rather swim through tears than walk through the desert any day. In a way this song represents the group themselves. They appear to be a peppy boy band but pay closer attention and you realize their music portrays genuine, thoughtful feelings and reflections. Fever was a slower song that again, had amazing lyrics. Sweet, sweet girl dreamed someday she'd be a writer, swore she'd never give up on her soul desire. Fever was more acoustic than the previous songs and the lead guitarist was the sole singer, this created a somber atmosphere. So although their looks were deceiving, The Tragic Thrills were wise beyond their years.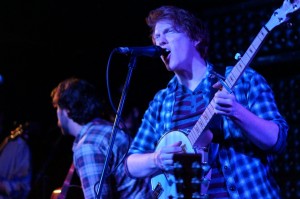 When PigPen Theatre Co. took over the stage I was surprised to see a 7 piece band, equipped with 2 banjos an accordion and later on in the show, a violin. These guys definitely know their instruments.  PigPen has an indie folk/country feel to them, hence the banjos, accordion and violin. Apparently they're all actors and met in a theater company, hence their name. Where the PigPen came from, I don't know, they ignored that part when explaining their origins. They told the crowd that it was their first time in San Diego and in return they were met with a warm San Diego welcome, which included cheers, whistling and raising of glasses.
They opened with Crow, which sounds like it could be in a western movie. Specifically, the scene where the outlaws have to ride at sundown as to not get caught by the sheriff. The banjos are showcased in this song, both of them working in harmony as the band supports their twangy sound. They followed that with a song in Russian, I don't speak Russian so I had no idea what the chorus was about but I enjoyed the song nonetheless. During this song the lead singer switched his acoustic guitar for a banjo, the KCR photographer that came along with me made a comment about it being "musical instruments" instead of musical chairs. That description fits PigPen perfectly. Everyone in the group seemed comfortable picking up a different instrument at any point in time. There was something very fluid and pleasing about watching the instruments being exchanged between all the members. I'm accustomed to watching a band who has one person for each instrument, so watching PigPen perform was refreshing. The Dress Song undeniably brings the accordion to the forefront.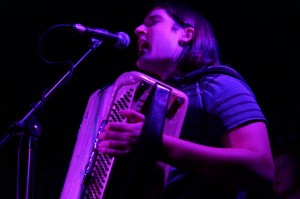 The accordionist became the lead singer for this song as well (again with the switching). One of the crowd's favorite songs was The Way I'm Running. Another instrument was brought into this song- the hands, as in clapping. It could not have gotten any more folk than this. It was very high energy. Along with the clapping there was a lot of stomping. If I knew how to dosi-do, this is the song I would have done it to. Because this was not a sold-out show, people at the room to dance along.
Their cover of The Band's The Weight was my personal favorite. Everyone in the band had a chance singing a part of the song. I don't know much about folk songs or country music but this reminded me of Jazz. In many Jazz songs each member gets a few bars (usually 4) to improvise, although PigPen didn't exactly improvise, they each sang and played a specific part of the song. The bassist which remained quiet for most of the show was the one that blew the song out of the water. The crowd went wild for him, myself included. We were not expecting to hear such a boastful voice come from the quiet guy in the back.
I loved the comradely displayed on stage, they were laughing and genuinely having a good time together. Their stage presence was that of a folk band around the campfire. They were easygoing, constantly joking and talking to the crowd as if we were old friends. The cherry on top of this night was their encore. Me being a hip-hop head I was equally excited and surprised to hear their cover of Hey Ya by Outkast. The crowd seemed to enjoy it just as much as I did. This was a good way to end the show, simply because it was a familiar song that everyone could sing to. PigPen set the atmosphere for the show and we were immersed in it. PigPen Theatre Co. does not solely consist of musicians and actors. They are story tellers. Each song played told a story and the crowd was entranced, waiting and listening to hear how the story would unfold.
[soundcloud url="https://api.soundcloud.com/tracks/42761347″ params="color=ff5500&auto_play=false&hide_related=false&show_artwork=true" width="100%" height="166″ iframe="true" /]